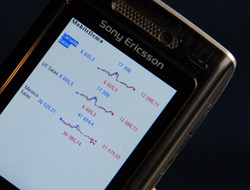 The Place where Business meets BI is more than words to us. The way Performance Canvas connects the concept of Embedded BI with the extensive power offered to the Business User without the use of BI lingo is unprecedented.
Los Altos, CA (PRWEB) September 22, 2008
Stretching the limits of the place where business meets BI DSPanel once again shows how Web technology can change what Business Intelligence means to business people throughout the world. DSP Performance Canvas product is created not to change the fundamental design of Business Intelligence chosen by each organization, but to augment it and create sustainable competitive advantage by letting business people collaborate and add knowledge optimizing key organizational processes.
 
The new version adds extended support for mobile dashboards and scorecards published and designed with the same ease characterizing all of Performance Canvas. Deeper customization features makes process and product integration easier and is especially aimed at customers using the product as a part of their own solution. Advanced new graphic features including new customizable color schemes and support for variable time granularity are other new features.
 
"Our OEM customers have learned to love how easy it is to customize and integrate Performance Canvas. Version 1.2 adds key elements in our strategy to make our product the leading platform for Embedded BI," says Jan Morath, CEO of DSPanel. "With the new enhanced support for Mobile Devices any smart phone or berry will immediately be able to get the benefits of what is created using the Canvas."
 
Support for advanced graphing features such as variable time series granularity, extended color schemes, improved candlestick graphs, automated post fixing and enhanced Microsoft SharePoint™ functionality are other key features in this version.
 
"In the 1.2 release we've actually added some nice features from our upcoming next major release of Performance Canvas. The new features are really just a taste of what we mean with real Embedded BI," says Niklas Derouche, CTO. "The Place where Business meets BI is more than words to us. The way Performance Canvas connects the concept of Embedded BI with the extensive power offered to the Business User without the use of BI lingo is unprecedented."
 
DSP Performance Canvas includes the Performance Canvas Application Server featuring the Canvas Designer, the Canvas Explorer and Microsoft SharePoint Connector, as well as Samples and On-Line Training. It gives provides immediate business value on top of the Microsoft BI Platform featuring advanced support for communication, collaboration and actions. The software works with Microsoft Office SharePoint Server, Microsoft SQL Server and the Microsoft Office productivity suite including Outlook, PowerPoint, Word and Excel.
 
For further information please visit DSPanel.
 
Notes to Editors:
About DSPanel:
DSPanel is a global Microsoft ISV Partner specializing in delivering in-context advanced performance dashboard and scorecard technology for ordinary business users, using everyday business terminology, on top of the Microsoft BI platform. DSPanel's products, Performance Canvas and Portal Edition, are used to create BI Web Parts for presenting information from a data warehouse within Microsoft Office SharePoint Server or Windows SharePoint Services. The products are sold through reselling partners worldwide and through OEM deals as part of integrated BI Solutions. The company focuses heavily on end user driven innovation, along with superior performance and software flexibility, thus providing a competitive edge to our customers and partners in real time decision making and action.
 
DSPanel is a Microsoft global Gold Certified ISV Partner. DSP Clients include Lending Tree, Recall, V&S Group (Absolut Vodka), Bosch Rexroth, 3GIS, First National Bank and Allgon.
 
For further press and photography contact Jan Morath, CEO at DSPanel: phone +46 (768) 866 468
Decision Support Panel International
Fax +46 (8) 5560 5686
###