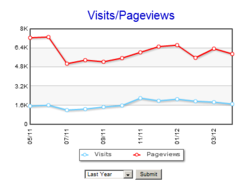 Rochester, NY (PRWEB) May 02, 2012
Debuting in May 2010 on the Google Analytics App Gallery, EmbeddedAnalytics continues improvements to it EmbeddedCharts SaaS reporting service. With the service webmasters no longer have to login to Google Analytics to view analytics data. Publishers can create their own private dashboards comprised of many EmbeddedCharts or embed selected charts into public facing pages targeting advertisers. The beauty of the service is it requires virtually no programming effort or knowledge of the Google Analytics Export API. Simply define your chart on the EmbeddedAnalytics website and embed a snippet of code on the target website where the chart is to show.
Pricing depends on the size of the target site in terms monthly visits; ranging from no cost for small sites up to $99 per year/profile for sites having one million-plus monthly uniques.
Other features include interactive queries for date range, metric, and dimension; cross/multiple profile reporting; geographic heat maps.
The service can also be white-labeled for CMS integration, allowing seamless dashboard creation.
See EmbeddedCharts on the Google Analytics App Gallery.
See InboundLinkAlerts, EmbeddedAnalytics "Link Detection Service" on the Google Analytics App Gallery.