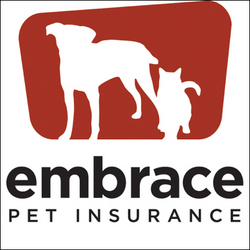 By offering a discounted rate to our members, we're hopeful that it will be easier for more people to make animal care decisions that are always in the best interest of the animals.
Mayfield Village, OH (Vocus) January 14, 2008
Embrace Pet Insurance is proud to announce an affiliate relationship with Best Friends Animal Society. The two companies are working together to ensure that members of Best Friends can easily take advantage of a discount Embrace is offering to Best Friends' adopters, supporters, and donors, as well as to visitors to the Best Friends Animal Sanctuary in Utah. In addition, starting today, Embrace will also make a $25 donation to Best Friends for each policy purchased by any Best Friends member.
Details can be found here: https://www.bestfriends.org/donate/affinity3.cfm#Embrace .
"Best Friends goes to great lengths to educate their members about responsible pet parenting, so this alliance is a natural fit for Embrace. Our goal with this program is to let the thousands of pet lovers connected with Best Friends know that there's a new type of pet health insurance available to them that eliminates the worry of a large vet bill down the road," said Laura Bennett, CEO and co-founder of Embrace Pet Insurance. "We have designed our pet insurance policies so that pet parents have a reliable way to manage costly, unexpected veterinary bills, and we provide enormous flexibility in terms of deductibles and co-pays so that a policy can fit anyone's financial circumstances."
Adopters of dogs and cats are often shocked when faced with a large vet bill after their pet falls ill, ingests a foreign object or gets hurt in an accident. Many vets now offer diagnostic techniques, treatments and surgical procedures that used to be only available for humans -- but the costs can be in the thousands of dollars. Embrace and Best Friends see insurance as a key part of responsible pet parenting, and as a way to expand long-term healthcare options.
"Pet insurance is something that can be of great benefit, especially when an animal is faced with a serious illness that requires extensive testing and treatment," said Vicki Kilmer-Rinker, manager of cause marketing for Best Friends. "By offering a discounted rate to our members, we're hopeful that it will be easier for more people to make animal care decisions that are always in the best interest of the animals."
About Best Friends Animal Society
Best Friends Animal Society operates the country's largest sanctuary for homeless animals and is home, on any given day, to about 2,000 dogs, cats, horses, rabbits, birds, and other animals. Best Friends works globally with animal shelters and rescue groups to bring about a time when there will be no more homeless pets. Best Friends advances initiatives nationwide that promote community approaches to make the world a better place through kindness to animals, including adoption, spay-neuter, and humane education programs.
About Embrace Pet Insurance
Embrace Pet Insurance Agency LLC is a specialist insurance agency headquartered in Mayfield Village, a suburb of Cleveland, Ohio. Embrace was founded by Laura Bennett and Alex Krooglik, pet parents who also happen to be insurance experts, and offers self-serve, customizable pet health insurance for dogs and cats. All policies are underwritten by certain underwriters of Lloyd's of London. Embrace is based on core principles of taking an open and honest approach with its customers that is captured in its Customer Bill of Rights.
Learn more at http://www.embracepetinsurance.com , and visit the Embrace Pet Insurance blog where Laura Bennett answers pet health and insurance questions from pet owners.
To see what other pet guardians think about Embrace Pet Insurance, visit PetInsuranceReview.com.
Media contact: Tim Cox | ZingPR -- 650-369-7784 -- tim@zingpr.com
###