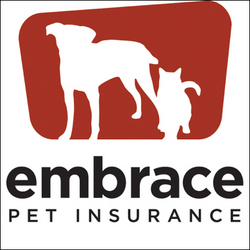 We interviewed hundreds of pet owners and learned that many pet owners are surprised when they find out what other pet insurance companies consider a genetic condition
Mayfield Village, OH (PRWEB) July 31, 2007
Until now, it has been difficult for pet owners to find a pet insurance company that covers genetic and hereditary conditions. With veterinary bills on the rise, it's good news that those days are over. Embrace Pet Insurance , the company that offers comprehensive, customizable and affordable pet insurance for dogs and cats, now includes coverage for cats and dogs with genetic or hereditary medical conditions. This coverage is included with every Embrace Pet Insurance policy.
"We interviewed hundreds of pet owners and learned that many pet owners are surprised when they find out what other pet insurance companies consider a genetic condition," says Laura Bennett, CEO of Embrace Pet Insurance. "Worse, we heard that many pet owners learned about what their pet insurance company classified as a hereditary condition only after their claim had been denied. In response, we decided that Embrace must offer coverage that includes these conditions and gives pet owners a practical, effective way to manage the unexpected medical costs that can arise with pet ownership."
Bennett is a leading pet life and health actuary who started Embrace Pet Insurance to make it possible for pet owners to purchase flexible, affordable dog insurance and cat insurance. Here are the most common questions about genetic conditions that Bennett and her team of "Embracers" are asked by pet owners.
Do I really need coverage for my pet's genetic conditions?
Yes, because every pet is at risk from genetic and hereditary conditions. There are hundreds of genetic conditions that affect dogs and cats, from a mixed breed dog to a purebred Persian cat. Treating these genetic conditions may involve costly drugs (NSAIDs to treat osteoarthritis, for example), while other conditions, such as cancer, may require expensive surgery. Some genetic conditions, such as hip dysplasia, are not deadly, but can have a dramatic impact on your pet's quality of life and may require treatment over a long period of time.
Which genetic conditions does Embrace cover?
Embrace covers all hereditary and genetic conditions including cancer, hip dysplasia, luxating patella, liver shunts, and heart conditions.
What sorts of treatments and expenses will Embrace cover?
Embrace covers the treatment and management of a pet's genetic condition including surgery, X-rays, ultrasound, chemotherapy, and other means. Pet owners can also add prescription drug coverage to their policy, which will cover the costs of prescription medication needed to treat the genetic condition.
Aren't genetic conditions always considered pre-existing conditions?
Not by Embrace. Many people, and some pet insurance companies, think that a genetic disease like hip dysplasia might be considered pre-existing because it lurks in a pet's genes and can manifest itself at any moment. In fact, any dog or cat can have the genes for a particular genetic condition but many factors determine whether the pet will actually suffer from that disease or condition. This is why, at Embrace, genetic conditions are not necessarily considered pre-existing. However Embrace excludes genetic conditions if you already know your pet has the condition or will certainly get the condition.
Under which circumstances would genetic conditions not be covered?
When the pet owner applies for pet insurance, the pet must not exhibit symptoms of any genetic condition and the pet owner must not be aware, through genetic testing or other means, that the pet has a genetic condition. There is also a waiting period of 14 days after enrollment during which genetic conditions are not covered.
To see what other pet owners think about Embrace Pet Insurance, visit PetInsuranceReview.com.
About Embrace Pet Insurance
Embrace Pet Insurance Agency LLC is a specialist insurance agency headquartered in Mayfield Village, a suburb of Cleveland, Ohio. Embrace was founded by Laura Bennett and Alex Krooglik, pet parents who also happen to be insurance experts, and offers self-serve, customizable pet health insurance for dogs and cats. All policies are underwritten by certain underwriters of Lloyd's of London. Embrace is based on core principles of taking an open and honest approach with its customers that is captured in its Customer Bill of Rights.
Learn more at http://www.embracepetinsurance.com , and visit the Embrace Pet Insurance blog where Laura Bennett answers pet health and insurance questions from pet owners.
Media contact:
Tim Cox, ZingPR
+1-650-369-7784
# # #