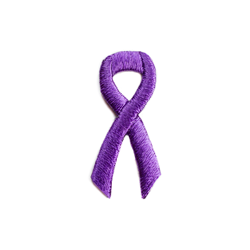 Minneapolis, MN (PRWEB) May 01, 2014
Thread-embroidered lapel pin ribbons with removable adhesive are available now in 13 popular awareness colors at Supportstore.
The embroidered awareness ribbons come in sets of 25 on individual tear off cards in an individual polybag. The quality adhesive reliably attaches to clothing or other items, yet is removable with no residue and is reusable.
Each cloth ribbon measures 1 1/4 inch tall by 1/2 inch wide and the deep colors are visible from a distance.
The SupportStore embroidered stick on ribbons require no assembly and are ready for instant use. Unlike metal lapel pins that make a small hole and require a clasp, or satin ribbon that requires attachment with a safety pin, these cloth ribbons press on in seconds.
Uses for Embroidered ribbons
Popular uses include health awareness events such as orange for leukemia, blue for colon cancer, pink for breast cancer, teal for ovarian cancer, and grey for brain tumor awareness.
Often used for helmets at sporting events, to celebrate a life at a funeral, or for fundraising events for causes like Boston Strong.
Colors available now include:
Red
Blue
Light Blue
Green
Grey
Periwinkle
Purple
Pink
Teal
White
Orange
Yellow
Black
Each sheet of 25 embroidered ribbons is $9.99, and as low as $6.99 in quantity, with free same day shipping on orders of $40 or more.
About SupportStore
SupportStore is an Illinois-based online only retailer of items people and businesses use to "shout out what they care about." Customers choose from 500 in-stock items that ship same day. Customers can also choose to create custom designed magnets and wristbands in bulk quantities.
Live US-based customer service is available by phone during business hours. Most products are designed and manufactured in the United States of America.
SupportStore is a registered trademark and "Shout out what you care about" is a trademark of ZapTel Corporation.