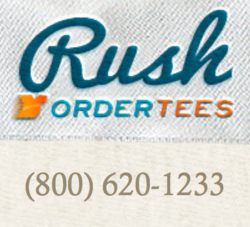 no work is done without the explicit direction and approval of the customer
Philadelphia, PA (PRWEB) March 27, 2012
Embroidered Polos offers an inexpensive way for small businesses to attain a more "enterprise" look while promoting their business' brand. Business owners and managers can create custom company logo shirts and custom dress shirts online or by phone. When they design t-shirts online, they create more than just custom t-shirts, they can make custom polos or dress shirts for their business with three simple steps -
Select a Shirt
This can be a polo, dress shirt or even a t-shirt to save costs, though the company recommends screen printing or DTG printing on t-shirts for cost and appearance.
"Custom logo shirts look best as embroidered polos or oxfords" noted Rush order Tees VP or Marketing and eCommerce, Ron Reed.
Choose a Color
The most popular method to making custom company shirts is to pick a color that matches a business logo or is neutral to look clean with the logo embroidered into it.
Upload Your Artwork (Company Logo)
Small business owners can upload a company logo directly in the design studio or even create a logo if you don't have one already.
Calculate Price
Visitors enter quantities and sizes to submit the design and order. Rush Order Tees has an in house team of graphic designers who optimize all customer designs - both consumer and business - for print using the online creation as a guide. They will then create a professional design proof for the customer's approval.
"Our customers are often startled how much better their design looks once it's passed through the hands of a professional design team" explained Reed. "Every customer receives a proof by email for their approval and no work is done without the explicit direction and approval of the customer"
Contact Rush Order Tees at 1 (800) 620-1233
About Rush Order Tees | a Printfly Company
Printfly and Rush Order Tees are US based international eCommerce based businesses. Originally built on repeat business and referrals from satisfied customers, Rush Order Tees has grown to be a major leader in the custom shirt printing industry supplying commercial, government, consumer, academic and private organizations throughout the United States and Canada.
Since it's founding in 2002, Rush Order Tees has expanded its product offering beyond custom printed shirts to include a wide variety of sports, academic, community-driven, commercial and business offerings including company polos, custom business shirts, custom team jerseys, custom printed hats, custom printed sweats, custom college shirts, school jerseys, custom totes, custom aprons, and more.
As it began to grow out of it's prior facilities, Rush Order Tees acquired a 15,000 SF facility in North East Philadelphia, PA which they equipped with over twenty of the highest quality screen printers, digital printers (DTG Direct to Garment printers), screen exposure units, screen printing heaters and much more. Now, in 2012, the business continues to grow to a point that now requires a new facility and offices.
Based in Philadelphia being a contributor to the local economy in and out of the city limits, the company is in negotiations to acquire a new facility staying based in the city of brotherly love with sipping locations and warehouses throughout the United States. They will continue serving the entire US (all 50 states) and Canada with their policy of standard free shipping through UPS to all 50 states under both the Printfly and Rush Order Tees brands and sites. Rush Order Tees currently offers customizable shipping options which will extend to Printfly in the near future.
As the company grew, it continued to offer free nationwide shipping along with "no fee" polices and an industry-leading low price guarantee. Through the years, they've developed a reputation for excellent service, value and quality. Their customers have voiced their well earned allegiance and appreciation across many consumer-driven review sites earning Rush Order Tees and Printfly overwhelmingly positive online rating and reviews across the leading sites including Google, Superpages, Yellow Pages, and the Better Business Bureau where they hold a certified A+ Accredited Rating.
Contact Rush Order Tees at 1 (800) 620-1233 or visit their site to email customer service or Live Chat with a specialist. Hours of operations are 7:00 am to 11:00 pm EDT, Monday through Friday and 9:00 am to 7:00 pm EDT Saturday and Sunday.