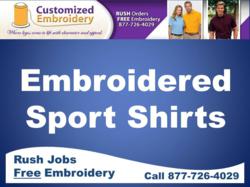 Every time we do 'the impossible' our reputation spreads and our business expands and grows." - David Zeluff
(PRWEB) February 06, 2012
Customized Embroidery, one of the largest and well known online marketers of embroidered sport shirts and other embroidered apparel has introduced free embroidery to its arsenal of features offered to both large and small companies.
"We have grown from a small family business, created in 1999, providing embroidery to local organizations and businesses to serving customers all over the world by the thousands as a full-scale production company," said David Zeluff, president of Customized Embroidery. "We have an amazing reputation and years of innovations and experience in the promotional apparel business that has allowed us to become a market leader."
According to some estimates, decorated apparel is a multi-billion industry and one that is expected to continue to grow in the coming years. The need stems from companies trying to brand their products and services in ways that are impactful, memorable and "classy." Custom embroidered apparel addresses all of these criteria.
"As the demand for embroidered apparel has grown, so has competition" continued Zeluff. "In addition to delivering great products and services, we always want to exceed our customer's expectations. We do that by always asking them how we can improve what we do. Offering free embroidery was what our customers asked for, so we decided to make it standard."
"One of the interesting parts of our business," said Zeluff, "is that many of the orders we receive are rush orders. This happens when companies are having large meetings and have decided at the last minute to provide their attendees with an embroidered item like a shirt or cap. Many embroidery companies shy away from these last minute orders, but we love them," continued Zeluff. "Every time we do 'the impossible' our reputation spreads and our business grows."
"At Customized Embroidery we are passionate about providing the highest level of customer service and take pride in what we do. That means fast turn-around, 100% follow through, premium quality embroidery work, and very competitive prices for high quality apparel," commented Zeluff.
About Customized Embroidery
At Customized Embroidery, where "logos come to life with character," we take great pride in our work and offer only the highest possible level of customer service. This means high quality apparel at the best prices, premium quality embroidery work, fast turnaround, and 100% follow-through. We offer custom graphic creation as well as digitizing and creation of logos and graphics. We have over 25,000 stock designs and we can add lettering to any design to customize it just for you. To learn more call 877-726-4029 or go to:
http://www.CustomizedEmbroidery.com
###