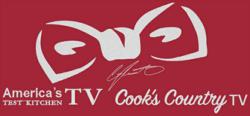 Boston, MA (PRWEB) May 24, 2012
Crooked Brook has been chosen by Boston Common Press/America's Test Kitchen to do the custom embroidery on the aprons for an upcoming promotional giveaway.
Chris Kimball, Boston Common Press founder and "face" of America's Test Kitchen, is well known for his bow tie and his red bib apron. To give a nod to Kimball's personal style, a white bow tie and below it, Chris' signature and the words "America's Test Kitchen / Cook's Country" will be embroidered on to the center front of the red bib apron.
Crooked Brook will use stock aprons from Port Authority® (Style A500) in 100% cotton red twill with a soil-release finish for added stain protection. The apron also has two waist-level patch pockets and a pen pocket.
About America's Test Kitchen
America's Test Kitchen is a half-hour cooking show distributed to public television stations in the United States, also airing in Canada. The show's host is Cook's Illustrated editor-in-chief Christopher Kimball; the show and the magazine are affiliated, and the magazine's test kitchen facility in Brookline, Massachusetts, is used as a set for the show. It is currently in its twelfth season, and is the most-watched cooking show on public television-up to 2 million viewers watch each episode.
Kimball's passion for well-made food (and his zeal for didactic details in recipes) is reflected in the magazines, television shows and books that he oversees as the head of the America's Test Kitchen empire, based in Boston. His official title is founder of Boston Common Press, the company that owns the various media that come out of America's Test Kitchen. In reality, Kimball is much more than just the founder, serving as hands-on leader and cooking guru/taskmaster to more than three dozen employees who create hundreds of recipes each year.
And to the public, Kimball, sporting a natty bow tie and his signature red apron, is instantly recognizable as the face and voice of the America's Test Kitchen brand.
Cook's Illustrated's parent company, Boston Common Press, renamed itself America's Test Kitchen in 2004.
About Crooked Brook
Crooked Brook is a unit of the atelier division of an art studio that offers full service apparel design, pattern making, sample making, private-label small lot production and embroidery. Since 1989, they've built a strong reputation of providing top-notch apparel designs, patterns, fit and production samples for many brand name catalogs and retailers, as well as wardrobe and costumes for movies, television and theater.
All Crooked Brook branded garments and accessories are proudly made to order in the U.S.A.
Because of their unparalleled attention to detail in tailoring, they were awarded a Supima® licensing agreement. These contracts are not awarded lightly. The applicants must meet requirements insuring the highest level of quality and integrity for any products bearing the Supima® brand. In addition, Crooked Brook designs and manufactures:
Uniforms: Men's and women's chef coats for the world's most recognized chefs, hotels, casinos, spas and resorts as well as alumni chef jackets for the Culinary Institute of America. Each garment can be personalized with the customer's choice of fabric, pockets, buttons, piping and embroidery. With a design studio in New York City, (the fashion and gastronomic capital of the world) and a production facility in Utica, New York, they've garnered international brand name recognition as the maker of the "World's Highest Quality Chef Jackets™".
Promotional products: Items, decorated apparel and accessories, such as jackets, hats, sweatshirts, hoodies, polo shirts, fleece blankets, sweatshirt blankets, button down shirts, fleece jackets, golf shirts, t-shirts, tote bags, and aprons that can be customized with the following apparel decorating methods:
Embroidery
Tackle Twill
Appliqué
Direct to Garment Printing (DTG)
Sublimation
Custom lab coats, uniforms and scrubs for nursing, medical, dental, scientific, engineering, technology & healthcare professionals.
Custom made apparel and accessories for men and women, including but not limited to: suits, shirts, Hawaiian shirts, pants, vests, dresses, skirts, gowns, jeans, boxer shorts, martial arts and yoga outfits.
Crooked Brook ships worldwide. Hours of operations are 7:00 a.m. to 7:00 p.m. EST, seven days a week. Reach them at (315) 733-1992 to learn more.