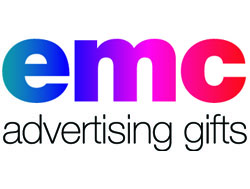 Companies who provide promotional gifts to prospective and existing customers consistently outperform competitors who don't!
(PRWEB UK) 15 May 2012
Held over the 17th and 18th of May, the show has expanded this year and will include a range of products and speakers including representatives from Saatchi and Saatchi, Amazon, The London Stock Exchange and Google. The show, which will feature over 300 exhibitors and 250 seminars, is free to attend for all those interested.
Amongst the traders exhibiting at the trade fair are London based promotional gifts company EMC Advertising Gifts. Boasting a range of thousands of promotional products, EMC are reportedly very excited about being part of this huge event again this year. Their stand - which will be at 1029 - will be laid out like an old sweet shop and the company will be giving each participant the opportunity to make their own "pick and mix" Bic Media Clic Ballpen. There will then be a prize draw with 500 of the pens up for grabs including free one colour design, setup and delivery and help with the design process, as well as loads of great samples to give away.
EMC Advertising Gifts will also be hosting two workshop sessions in which visitors will have the opportunity to meet and garner advice from the Director General of the British Promotional Merchandise Association, Gordon Glenister who will be talking about how to make businesses stand out. Glenister, who has had a successful marketing career in the drinks industry and is a renowned advocate of the use of promotional gifts, will be talking between 12.30 and 13.00 on the 17th in seminar Hall 13 and again on Friday the 18th between 11.00 and 11.30.
In a statement, Simon Kay from EMC said;
"We're thrilled to be part of this trade show and are looking forward to giving advice as to how companies can continue to perform well in what is still a relatively hostile economic environment. We have found over and over again that companies who provide promotional gifts to prospective and existing customers consistently outperform competitors who don't, helping them to buck the current economic trend. This is why we have invited along Gordon Glenister to host a workshop. The BPMA have undertaken a wealth of surveys which back up this claim, and we can't wait to be able to pass on their findings."
The Great British Business Show takes place in London ExCel this week, and tickets can be obtained free of charge by filling in the form on their website.