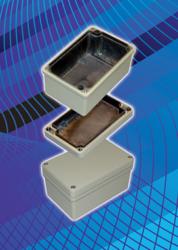 (Vocus/PRWEB) March 04, 2011
Increased use of wireless technology is boosting demand for ROLEC's tried and tested conFORM and conTROL EMC enclosures.
ROLEC's RFI enclosures help electronics designers to overcome radio frequency interference swiftly, easily and more cost effectively with the latest in EMC enclosures technology.
Watch this EMC enclosures video to see how conFORM and conTROL have been specially designed to protect highly sensitive electronic components against radio frequency interference. They have been EMC performance tested by Hanover University in Germany.
These aluminium enclosures are manufactured from diecast GD AL Si 12. On the inside of the base section they feature small ribs which are compressed by the lid to form a high performance EMC contact between the two parts.
As a result, the conFORM and conTROL ranges are very competitively priced because expensive and delicate EMC gaskets or contact fingers are not required.
Metal enclosures have always offered the best protection against radio interference but traditionally the weak point has always been the non-conducting seal.
ROLEC's conFORM and conTROL IP66 enclosures provide superior EMC shielding performance because they completely separate the sealing and conductivity functions.
Uncoated metal teeth in the base of each enclosure link with a dedicated rail in the lid – this ensures complete conductivity independently of the separate sealing rail for the gasket.
ROLEC's conFORM and conTROL diecast enclosures are available in the 14 most popular standard sizes with external dimensions from 79 x 84 x 44mm to 266 x 166 x 100mm. All models are sealed to IP66 or, on request, to IP67 with a special gasket.
The conTROL range also offers the added benefit of recessed lids for applications such as housing switches.
Both ranges of enclosures are powder painted silky grey (RAL 7032) as standard or silver grey (RAL 7001) at no extra cost. Custom colours are also available on request.
All mounting dimensions conform to industry standard sizes. Accessories include internal mounting plates, external mounting brackets, internal and external hinges, panel mounting kits and terminal mounting DIN rails.
Prices start from £11. These electronic enclosures can also be fully customised with holes and cut-outs, silk-screen printing or painting plus much more to provide a fully finished enclosure.
ROLEC electrical enclosures are marketed in the UK by OKW Enclosures Ltd of Fareham, Hampshire.
OKW Sales and Marketing Director Robert Cox said: "ROLEC's conFORM and conTROL EMC enclosures eliminate radio interference at a stroke.
"By completely separating the IP66 and IP67 seals from the conductivity, ROLEC provides optimum EMC protection with these enclosures."
Features of conFORM and conTROL enclosures include:

IP rating: IP66/EN 60529. IP67 available on request
Material: Die-cast aluminium EN AC-44300 DIN EN 1706 (GD Al Si 12/DIN 1725)
Finish/colour: Powder coat, silky grey, RAL 7032. Special finish and colours on request
Options: Corrosion proof coating
Temperature range: -40°C to +120°C, -50°C to +140°C on request
Standard lid gasket: Thermoplastic TPE gasket (silicon free) -40°C to +120°C
Optional lid gasket: Oil & petrol resistant neoprene gasket -30°C to +100°C (IP 67) or silicon gasket -50°C to +140°C
Lid screws: Captured stainless steel screws
Certification: CSA (UL 508 industrial control equipment), GOST R (Russian Standards)
Mounting: Separate screw ports outside the enclosure interior.
Family-owned ROLEC has at least three decades of experience in the design and manufacture of industrial enclosures for electronics and electrical equipment.
For more information on ROLEC EMC enclosures, contact OKW Sales and Marketing Director Robert Cox +44 (0)1489 583858.
Notes For Editors
OKW Enclosures Ltd
15 Brunel Way
Segensworth East
Fareham
PO15 5TX
Tel: +44 (0)1489 583858
Fax: +44 (0)1489 583836
ROLEC has more than 30 years of experience in the design and manufacture of industrial enclosures for electronics and electrical equipment.
Its extensive range of innovative enclosures is brought to you in the UK by partner OKW Enclosures Ltd.
ROLEC is a medium-sized family-owned enterprise which manufactures exclusively at its factory in Rinteln, northern Germany.
The company has many years of expertise in the development and manufacture of high quality enclosures and accessories.
ROLEC keeps all catalogued products in stock and uses ultra-modern machines to modify enclosures to individual requirements. ROLEC supplies fully finished enclosures without delay at competitive prices and "just in time".
# # #