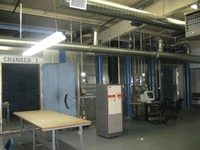 We are pleased at the expansion of our offerings to include HERO, and look forward to expanding this capability to our other EMC laboratories
Calabasas, CA (PRWEB) September 17, 2009
National Technical Systems Inc. (NASDAQ: NTSC) (NTS), has added Hazard of Electromagnetic Radiation to Ordnance (HERO) testing to its wide array of capabilities.
NTS teams in Boxborough, MA and Camden, AR jointly developed the test procedure and method in response to a customer request for testing on two 25 mm rounds typically fired from an M242 cannon. One round contained a piston actuator detonator and the other contained an Electro-Explosive Device (EED) detonator.
HERO testing is to determine that the ordnance safety margins required are met when the unit under test is exposed to the high levels of electric fields required by MIL-STD-464. This requires that the test method measures the current induced into the unit's bridgewire and compares the measurements to the pre-determined mean no-fire current (MNFC) of the bridgewire.
NTS investigated various methods and chose to utilize a system manufactured by Opsens of Quebec City to measure the current on the bridgewire. The NTS Test Procedure was based upon limits in MIL-STD-464, the Army's TOP 1-2-511, and MIL-HDBK-240.
"We are pleased at the expansion of our offerings to include HERO, and look forward to expanding this capability to our other EMC laboratories," stated James Press, National EMC Director for NTS. For additional information about the expansion, please contact Jim at (978)-266-1001.
About NTS:
National Technical Systems, Inc. is a leading provider of engineering services to the defense, aerospace, telecommunications, automotive and high technology markets. Through a world-wide network of resources, NTS provides full product life-cycle support, offering world class design engineering, compliance, testing, certification, quality registration and program management. For additional information about NTS, visit our website at http://www.ntscorp.com or call 800-794-0926.
The statements in this press release that relate to future plans, events or performance, are forward-looking statements that involve risks and uncertainties, including risks associated with uncertainties pertaining to customer orders, demand for services and products, development of markets for the companies' services and products and other risks identified in the companies' SEC filings. Actual results, events and performance may differ materially. Readers are cautioned not to place undue reliance on these forward-looking statements, which speak only as of the date hereof. The companies undertake no obligation to release publicly the result of any revisions to these forward-looking statements that may be made to reflect events or circumstances after the date hereof or to reflect the occurrence of unanticipated events.
"Safe Harbor" Statement under the Private Securities Litigation Reform Act of 1995: Statements in this press release regarding National Technical Systems' business which are not historical facts are "forward-looking statements" that involve risks and uncertainties. For a discussion of such risks and uncertainties, which could cause actual results to differ from those contained in the forward-looking statements, see "Risk Factors" in the Company's Annual Report or Form 10-K for the most recently ended fiscal year.
###