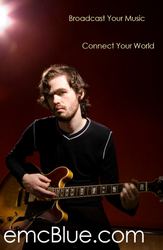 We want to put the focus on artist development. A lot of listeners know all the words to the great songs we hear on the radio everyday, but very little about the artists behind the music. We believe this contributes to the decline in album sales. We hope to help bridge the gap
New York, NY (PRWEB) March 20, 2008
If you're an independent artist, emcBlue.com might be the place for you. emcBlue, a division of Executive Music Company, is a dynamic all-star music site with a focus on artist development and helping artists directly connect with their fans, and grow their fan base.
This social networking site's innovative design sets a colorful and powerful stage to help artists broadcast their music. The online company launched its Beta version last Wednesday, giving users the ability to host their music, run blogs, advertise and much more.
Developed by a Mathematical Sciences major, and former indie label head from the New Jersey Institute of Technology, the site essentially provides artists with a mini website, providing each user with a page for their bio, events, pictures, and lyrics.
Users can register as an Artist, Band, DJ, Producer, or Fan. Most profound, the site gives users advertising space for an ad banner or logo, and allows them to sell the space to the highest bidder.
"We understand how hard it is to make an independent push. We also understand that our client's profiles drive traffic to our site. Allowing them to contract out their banner space and generate revenue from it is our way of saying thank you," said the founder.
Fans or browsers are encouraged to rate and review music rather than leave comments, and all songs hosted on the site are entered into a Top 200 chart which tallies songs based on an artist's popularity, number of plays, and reviews.
"From my experience running an indie label, I found to build fans you need three things: (1) a good song, (2) a good story, and (3) a personal connection. Our profile pages put faces, a story, and an artist's history behind a song. We direct fans to focus on the music by allowing reviews but not comments and also provide easy access to artist bios, pictures, and thoughts which often times are critical to building that personal connection with a fan. We think it's a winning strategy," said the founder.
Not only is emcBlue a social networking music community, the site's home page boasts of a music & entertainment e-zine, an innovative concept targeted at attracting not only musicians, but music enthusiasts who like to stay on top of music news.
Also, despite its independent music focus, emcBlue.com offers profile management services which works together with record labels to design, maintain, and update their artist's profiles. This has been an attractive service to some majors. The company has already worked with Def Jam, and Koch Records among others. "We want to put the focus on artist development. A lot of listeners know all the words to the great songs we hear on the radio everyday, but very little about the artists behind the music. We believe this contributes to the decline in album sales. We hope to help bridge the gap," said the founder.
Time will tell whether emcBlue will have an impact on the music industry's ever changing landscape. It's important to note however, that signing up is free. It might just be worth the while. This time, the "blues" might not be so bad after all.
###