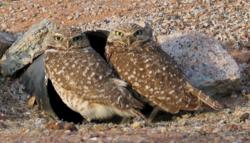 Because the Southwest Valley continues to see a lot of development activity, it is a premier area for rescue activities. -- Greg Clark, Burrowing Owl Habitat Coordinator
Avondale, AZ (PRWEB) April 14, 2013
Estrella Mountain Community College (EMCC) is a commuter campus for students, but is becoming a residential campus for a very few, among them, the tiny burrowing owl. You may not have seen them, as they are small – standing about ten inches tall. They live and raise their young underground, nesting in existing spaces, including dens vacated by other animals.
They work hard, catching insects and rodents that others would consider a nuisance. But they face a big threat in their little world: They are at risk of being buried alive during construction projects.
The Southwest valley is one of the fastest growing areas for new home building and business development, which for years, was desert and farmland. One of the greatest challenges is to minimize the impact of growth on displaced wildlife.
A couple of months ago, EMCC facilities staff came across a resident pair of these creatures in a field just west of the Public Safety building, where construction for the new Performing Arts Center is slated to begin at the end of the summer. They knew that they needed to find a solution to help these small birds before disputing their humble but vital environment.
EMCC sought the assistance of Bob Fox, Director of local rescue agency Wild at Heart. Fox has helped transform burrowing owl conservation in Arizona through innovative procedures for rescuing and relocating colonies threatened by development. Fox relied on the technical expertise of Wild at Heart's Burrowing Owl Habitat Coordinator, Greg Clark, who has developed ways to make the burrows attractive to the owls and to determine where to install burrows so the owls will readily accept them.
Fox and Clark helped EMCC explore the possibilities for relocation of EMCC's owls and determined the campus would be a good candidate for what is called "passive relocation." This is where humans intervene by creating emergency burrows and the birds take to them passively, vs. forced relocation. The birds are then safely captured and physically relocated to their new home.
"Because the Southwest Valley continues to see a lot of development activity, it is a premier area for rescue activities," said Clark. "And it's wonderful to see Estrella Mountain taking a lead in this important task."
Like an old-fashioned "barn-raising," EMCC faculty, staff and students helped to create these safe homes for the resident burrowing owls. Nadine Johnson, who co-chairs the EMCC Sustainability Team and serves as Operations Chair for the MCCCD Sustainability Committee, championed the efforts, along with EMCC Facilities Director Randy Naughton.
At 7:00 a.m. on the following Tuesday, April 2, the backhoe was delivered to campus. By 9:00 a.m., marks had gone down, indicating where the trenches should be dug. The main trench, about four feet deep by 16 feet long, joined up with two side trenches to form a "U" shape.
By 10:15, student volunteers had arrived to install four buckets and flexible plastic tubing, and then to hand-pack dirt around them to create new dwellings for the owls. Within 30 or 45 minutes, the tiny condos in the desert dirt were move-in ready. Shortly thereafter, the backhoe finished backfilling (putting the soil back into the trench).
In the last step of the process, football-sized river rock were placed around the burrows to harden the entrances against erosion and to prevent attacks by larger animals, such as neighborhood dogs that chase bunnies down into the burrows. Et voilà, the new homes were ready for their occupants.
Nearby, another area was pre-dug, in preparation for Earth Week, students in Rachel Smith's Environmental Biology class plan to install another four human-assisted burrows, preparing the way for more inhabitants to join the original pair.
Thanks to a little help from their slightly larger mammalian friends, the tiny burrowing owls of EMCC can settle into their new digs – and even be ready to welcome an extended family to the neighborhood. If the relocation is successful, plans are to make EMCC a future habitat for many more of the burrowing owls, creating another "community" for the community college.
Estrella Mountain Community College offers transfer-ready academic courses and job-specific occupational training to approximately 15,000 students annually. The flagship campus is located on Thomas and Dysart Roads in Avondale and is home to the SouthWest Skill Center. The satellite campus, EMCC's Buckeye Educational Center, is located in downtown Buckeye.
Estrella Mountain is one of the 10 regionally accredited colleges in the Maricopa County Community College District, one of the largest community college districts in the nation, and in the 2012-13 academic year, celebrates 50 years of providing accessible and affordable higher education.