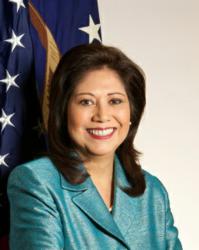 Avondale, AZ (PRWEB) May 03, 2012
This year, Estrella Mountain Community College (EMCC) is honored to welcome as its 2012 Commencement Speaker, United States Secretary of Labor Hilda L. Solis.
EMCC is one of the 10 regionally accredited colleges in the Maricopa County Community College District (MCCCD). Celebrating the academic accomplishments of EMCC's Class of 2012, the 16th annual commencement ceremony will be held Friday, May 11, 2012, at 6:30 p.m. at the Goodyear Ballpark, 1933 South Ballpark Way in Goodyear, Arizona.
The ceremony will recognize the students who are expected to successfully complete this current spring 2012 semester, plus the students who completed their studies in fall 2011, for a combined total of 1,250 degrees and certificates, representing the accomplishments of nearly 600 students.
Secretary Solis was confirmed as Secretary of Labor on February 24, 2009. Prior to her confirmation, Solis represented the 32nd Congressional District in California, a position she held from 2001 – 2009. In the Congress, Solis' priorities included expanding access to affordable health care, protecting the environment, and improving the lives of working families.
A recognized leader on clean energy jobs, she authored the Green Jobs Act which provided funding for "green" collar job training for veterans, displaced workers, at risk youth, and individuals in families under 200 percent of the federal poverty line.
Secretary of Labor Hilda L. Solis
Secretary Solis was first elected to public office in 1985 as a member of the Rio Hondo Community College Board of Trustees. She served in the California State Assembly from 1992 to 1994, and in 1994 made history by becoming the first Latina elected to the California State Senate. As the chairwoman of the California Senate Industrial Relations Committee, she led the battle to increase the state's minimum wage in 1996. She also authored a record seventeen state laws aimed at combating domestic violence.
EMCC's program offerings, services and overall mission reflect some of the societal goals supported by Secretary Solis, especially improving the lives of working families, and a commitment to youth and education.
Estrella Mountain is one of nearly 300 Title V Hispanic Serving Institutions in the nation, and one of three in the Maricopa Community College District. These educational institutions are defined as having a Hispanic enrollment of undergraduate, full-time equivalent students of at least 25 percent. EMCC was also recently recognized for the second year by the Aspen Institute College Excellence Program as one the nation's 120 top community colleges.
Also featured in the commencement program will be the conferring of degrees by EMCC President Dr. Ernest Lara, and Dr. Maria Harper-Marinick, the Executive Vice Chancellor and Provost of the Maricopa County Community College District, joined by faculty speaker, Faculty Senate President Dr. Tanisha Maxwell, and selected student speaker Mr. Bobby Koger.
Estrella Mountain Community College offers transfer-ready academic courses and job-specific occupational training to approximately 15,000 students annually. The flagship campus is located on Thomas and Dysart Roads in Avondale and is home to the Southwest Skill Center. The satellite campus, EMCC's Buckeye Educational Center, is located in downtown Buckeye. Estrella Mountain is part of the Maricopa County Community College District, one of the largest community college districts in the nation.