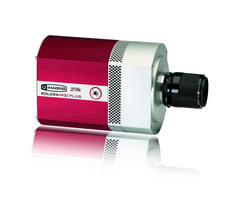 The QImaging engineering team worked hard on the image quality and quantitative efficacy of the Rolera MGi EMCCD camera. We are confident the camera will fulfill the demanding tasks of the HICO mission
Surrey, British Columbia (PRWEB) September 10, 2009
QImaging, a leading developer and manufacturer of high-performance, easy-to-use digital cameras for life science and industrial applications, announced that its Rolera-MGi camera will be launched into space today as part of the Hyperspectral Imager for the Coastal Ocean (HICO) to take pictures of the earth's coasts and oceans. Developed by the Naval Research Laboratory (NRL), the HICO--the first hyperspectral space imager optimized for the coastal environment--will collect maritime hyperspectral images from the International Space Station.
Institutions including the NRL have typically flown hyperspectral imagers in airplanes to remotely capture information of the landscape below them. Able to process the entire electromagnetic spectrum, applications of hyperspectral imagers include identifying mineral deposits and monitoring the health of crops. The move to space will enable the HICO to capture a much greater area--up to 8,000 square kilometers of coastal ocean.
An imager in space requires a very high sensitivity for capturing dark coastal scenes. This is one reason the NRL chose the Rolera-MGi camera. Additionally, NRL picked the camera for its excellent linearity, high uniformity and readout speed. The camera will record spectrum output by a high-efficiency Offner imaging spectrometer manufactured by Brandywine Optics.
"The QImaging engineering team worked hard on the image quality and quantitative efficacy of the Rolera MGi EMCCD camera. We are confident the camera will fulfill the demanding tasks of the HICO mission," said Rachit Mohindra, Associate Product Manager for QImaging.
The HICO was manifested by the Department of Defense Space Test Program to fly aboard the International Space Station. The payload launched on the demonstration flight of the Japanese H-II Transfer Vehicle from the Tanegashima Space Center located off the southern coast of Japan.
NASA will transmit the data to the NRL, which will then distribute the images with the help of The Oregon State University and other collaborating institutions.
###