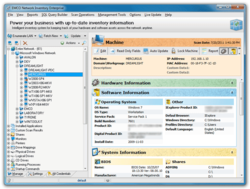 The new version of EMCO Network Inventory can work on PCs running Windows 8, Windows 8 Servers or previous versions of the Windows x86 and x64 platforms.
San Francisco, CA (PRWEB) June 28, 2012
EMCO Software, a leading provider of network inventory and network management software, has released a new version of EMCO Network Inventory software tool, which is compatible with the upcoming Windows 8 and Windows 8 Server operating systems. The new EMCO Network Inventory release was successfully tested using the Customer Preview and Release Preview versions of Windows 8, which are currently available for evaluation.
The new version of EMCO Network Inventory can work on PCs running Windows 8, Windows 8 Servers or previous versions of the Windows x86 and x64 platforms. The application can connect to remote Windows PCs located in a local network to extract their hardware and software inventory information. The list of supported remote platforms includes Windows 8 and Windows 8 Server versions.
"Using the latest version of EMCO Network Inventory, network administrators can collect inventory information remotely from all Windows PCs, including not yet officially released Windows 8 and Windows 8 Servers. It can be extremely helpful for those companies and organizations that now evaluate new Windows platforms, because their administrators can use a single tool to collect and audit inventory information from all PCs", Thorarinn Oskarsson, CEO at EMCO Software, says.
EMCO Network Inventory stores all collected software inventory and hardware inventory information in a single centralized database, which is used to build inventory reports and can show detailed information on every PC on request. Network administrators can use this information to see the details of every hardware device and software application installed on the network PCs and to get aggregated information about the software and hardware used across the entire organization. This information allows IT departments to perform a lot of tasks more effectively than before. For example, network administrators can easily identify which PCs have the hardware devices that should be replaced or see how many PCs have Windows 8 running.
Network administrators have access to hundreds of software and hardware parameters collected from remote PCs and can organize them in their own way using predefined or custom reports. For example, they can run a custom query or build a custom report that would shows PCs with an insufficient HDD storage capacity, or PCs that have non-approved applications installed or unapproved music or video files stored. There are many ways to automate and perform regular administrative tasks more effectively using EMCO Network Inventory.
Pricing and Availability
EMCO Network Inventory is available for evaluation as a free trial version that can be downloaded at http://emcosoftware.com/network-inventory or http://network-inventory-software.net/. It can run on the Windows platform starting from Windows XP and support all the latest Windows x86 and x64 versions. The application is available in three editions with different sets of features. It is licensed depending on the number of PCs to be managed with the license prices starting from $99.
About EMCO Software
EMCO Software is a provider of integrated software solutions that help organizations to reinvent approaches to their computer networks management. EMCO Software award-winning products enable organizations to manage their IT environments remotely and automate their network administration procedures, including network inventory, software deployment, power management, and network & security control. Founded in 2001, EMCO Software is headquartered in Reykjavik, Iceland, with operations around the globe. Today, more than 20,000 organizations in 85 countries, including Fortune 100 and Fortune 500 companies, trust EMCO Software products. For more information, visit http://emcosoftware.com.