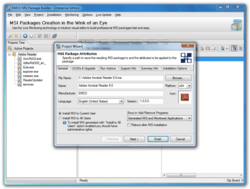 EMCO MSI Package Builder is a software application that helps system administrators to create an MSI from EXE setup and prepare it for a remote deployment.
San Francisco, CA (PRWEB) August 31, 2012
EMCO Software, a leading provider of solutions for automated and unattended Windows software deployment, has announced special prices for EMCO MSI Package Builder and other products of interest to educational, non-profit and government organizations. Qualifying organizations can order licenses with a 30% of discount off the regular price.
EMCO MSI Package Builder is a software application that helps system administrators to create an MSI from EXE setup and prepare it for a silent remote deployment. The EXE to MSI conversion process used by EMCO MSI Package Builder is called installation repackaging. It is required to convert non-silent legacy setups, which require interactive installation, into preconfigured MSI packages that are ready for silent remote deployment through Active Directory's Group Policy or other deployment tools. Using EMCO MSI Package Builder, network administrators can convert software installations that need to be deployed on client PCs into MSI packages so as to install them on multiple PCs at once, remotely and in an unattended mode.
"Now it's a busy time for network administrators who work for academic organizations, because they need to prepare classes for a new academic year and install a lot of new software and updates to all PCs. Several years ago, administrators had to visit every PC and install software manually, but now they can convert required installations into the MSI format and make use of automatic remote installation to complete all their deployment tasks within just a few hours, not in the course of many days. We've made EMCO MSI Package Builder more affordable for academic customers by offering special academic discounts", Thorarinn Oskarsson, CEO at EMCO Software, says.
EMCO MSI Package Builder uses a unique technology for installation repackaging. It records file system and registry changes performed by the original installer and allows generating an MSI package containing those changes, so running an MSI installation is identical to performing an original setup manually. To covert the installation format using this approach, network administrators only need to deploy an original setup while EMCO MSI Package Builder is tracking the changes made.
Network administrators can use EMCO MSI Package Builder not only as an installation repackaging tool, but also as a simple MSI packages creator. The same technology as used for installation repackaging can also be used to capture any changes performed on a PC, so administrators can use it to generate custom MSI installations that would apply, for example, required system configuration changes. The creation of such installations doesn't require any special training or studying the MSI specification, because EMCO MSI Package Builder can capture the performed changes and generate an MSI package that would apply them when required.
Availability and Pricing
EMCO MSI Package Builder is available for evaluation as a free trial version that can be downloaded at http://emcosoftware.com/msi-package-builder. It can run on the Windows platform starting from Windows XP and support all the latest Windows x86 and x64 versions. The application is available in three editions with different sets of features at prices starting from $199.00. Detailed information on the application features is available at http://emcosoftware.com/msi-package-builder/convert-exe-to-msi.
About EMCO Software
EMCO Software is a provider of integrated software solutions that help organizations to reinvent approaches to their computer networks management. EMCO Software award-winning products enable organizations to manage their IT environments remotely and automate their network administration procedures, including network inventory, software deployment, power management, and network & security control. Founded in 2001, EMCO Software is headquartered in Reykjavik, Iceland, with operations around the globe. Today, more than 20,000 organizations in 85 countries, including Fortune 100 and Fortune 500 companies, trust EMCO Software products. For more information, visit http://emcosoftware.com.