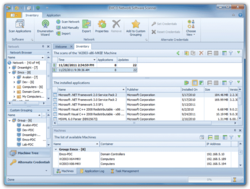 The application is designed to be used in different types of networks: from small Windows network workgroups to large enterprise domains with thousands of networked PCs.
San Francisco, CA (PRWEB) January 31, 2013
EMCO Software, a leading provider of remote software inventory solutions for Windows networks, has reported reaching the 15.000-installations milestone for its EMCO Network Software Scanner in 2012. The application users base grew from zero to tens of thousands of users across the world during the first year that the application is available on the market.
EMCO Network Software Scanner is a free software audit utility for Windows designed to help network administrators to audit Windows applications and updates installed on remote Windows PCs across a local network. The application can automatically discover computers connected to a local network and extract software inventory information from them into a centralized database. The information collected from every PC is similar to the information represented in the Windows Programs and Features dialog and includes a list of the installed applications and Windows updates. For every installed application, EMCO Network Software Scanner can extract detailed information to fill more than 20 required and optional fields, including the application name, version, manufacturer info, installation date, uninstall string, etc.
The application is designed to be used in different types of networks: from small Windows network workgroups to large enterprise domains with thousands of networked PCs. The application guarantees a very high performance when it's used to audit up to 5.000 PCs. Operations with remote PCs are performed in parallel to reduce the total audit time. For example, a complete software inventory audit of 100 PCs takes less than 20 seconds.
"The great application scalability and performance results are among the main reasons of the explosive popularity growth of EMCO Network Software Scanner on the market. It's the first and only software inventory freeware tool that can work well both in small and large networks", Thorarinn Oskarsson, CEO at EMCO Software, says.
Network administrators can use EMCO Network Software Scanner not only to quickly collect software inventory information from remote PCs, but also to analyze the collected data. In particular, the application can generate an aggregated software inventory report for a group of PCs that includes information about all applications installed in this group and shows the number of installed copies for every application and the PCs where the application is installed. All inventory information can be exported to external files to be used in other applications for generating custom inventory reports.
Product Availability
EMCO Network Software Scanner is available for downloading without registration at http://emcosoftware.com/network-software-scanner. The application is compatible with Windows x86 and x64 platforms starting from Windows XP. The application can be used free of charge for personal and commercial needs.
About EMCO Software
EMCO Software is a provider of integrated software solutions that help organizations to reinvent approaches to their computer networks management. EMCO Software's award-winning products enable organizations to manage their IT environments remotely and automate their network administration procedures, including network inventory, software deployment, power management, and network and security control. Founded in 2001, EMCO Software is headquartered in Reykjavik, Iceland, with operations around the globe. Today, more than 20,000 organizations in 85 countries, including Fortune 100 and Fortune 500 companies, trust EMCO Software products. For more information, visit http://emcosoftware.com.