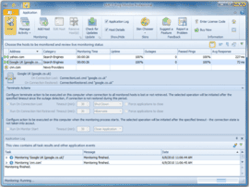 The released version 4.7 is aimed at allowing IT professionals and network administrators to use the application 24/7 in an autopilot mode in order to supervise business-critical network connections to servers and network hardware.
San Francisco, CA (PRWEB) March 29, 2012
EMCO Software has announced the availability of a free update for EMCO Ping Monitor 4. The released version 4.7 is aimed at allowing IT professionals and network administrators to use the application 24/7 in an autopilot mode in order to supervise business-critical network connections to servers and network hardware. Using the functionality introduced in the new release, network administrators can define a schedule with time periods when the network hosts should be monitored and when the monitoring should be paused. It allows running EMCO Ping Monitor in a 24/7 mode and automatic handling of situations when particular hosts are turned off for maintenance or powered off on weekends. The application will keep watching the statuses of all the hosts except for those that are turned off according to the monitoring schedule.
EMCO Ping Monitor is a Windows host monitoring application that tracks connections to multiple network hosts simultaneously by executing pings (ICMP echo requests) regularly at defined time intervals. It collects statistics for every executed ping to calculate high, low and average response times, response time deviation and other parameters that allow evaluating the connection quality and stability. When EMCO Ping Monitor fails to receive ping replies from a host for sequential ping requests, it detects a connection outage and sends notifications about the problem. The application can send e-mails, show a Windows Tray alert and play sounds in case of detected connection status changes, including connection loss and restore events. All notifications are customizable to allow network administrators, for example, to send different e-mails to different recipients in case of outages of different monitored hosts.
"The new release of EMCO Ping Monitor also includes new notification functionality. We were frequently asked by network administrators to add the notification repetition option. In the new version, it is possible to configure the application to repeat notifications until the problem is resolved. For example, the application can play a sound notification in loop while connection to the monitored host is lost. It guarantees that network administrators will not miss this warning when they come back to the server room after a brake during which the problem happened", Thorarinn Oskarsson, CEO at EMCO Software, says.
Network administrators can use EMCO Ping Monitor as a host monitoring system integrated with other applications and IT infrastructure systems. The application allows executing custom scripts and commands in case of connection loss, restore and other detected state changes, so that network administrators could configure custom setups to notify other IT systems of any changes in the monitored hosts' availability. For instance, a network administrator can write a custom script to send an SMS notification through a mobile phone connected to the PC where Ping Monitor is running. The administrator can configure the application to send SMS alerts every time the Internet connection is lost. Such notifications are delivered on time to the mobile phone. EMCO Ping Monitor is capable of tracking connections to thousands of hosts in parallel, so it can be used to monitor the entire corporate server infrastructure.
Pricing and Availability
The free and commercial versions of EMCO Ping Monitor can run on the Windows platform starting from Windows XP through the latest Windows x86 and x64 desktop and server platforms. The free version and a time-limited evaluation of the commercial version can be downloaded directly without registration from http://emcosoftware.com/ping-monitor and http://ping-monitor.com/. The free version of the application allows tracking availability of up to five network hosts. The commercial version includes a set of extended features and doesn't have the limitation on the number of monitored hosts. A license for the commercial version costs $49 for a single copy of the application.
About EMCO Software
EMCO Software is a provider of integrated software solutions that help organizations to reinvent approaches to their computer networks management. EMCO Software's award-winning products enable organizations to manage their IT environments remotely and automate network administration procedures, including network inventory, software deployment, power management, and network and security control. Founded in 2001, EMCO Software is headquartered in Reykjavik, Iceland, with operations around the globe. Today, more than 20,000 organizations in 85 countries, including Fortune 100 and Fortune 500 companies, trust EMCO Software products. For more information, visit http://emcosoftware.com.