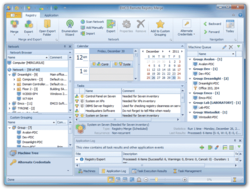 The new export functionality significantly simplifies Windows registry export and backup tasks performed by network administrators on a regular basis
San Francisco, CA (PRWEB) April 11, 2012
EMCO Software, a leading provider of software solutions for automation of Windows administration tasks, has announced the availability of new releases of EMCO Remote Registry Exporter and EMCO Remote Registry Merge. The new versions of these tools feature an improved remote registry export operation that can export the content of selected registry keys or the entire registry from one or multiple remote computers and save the exported data into a local storage. The latest releases of the application introduce a new feature that allows defining the list of registry keys that should be skipped during export.
"The new export functionality significantly simplifies Windows registry export and backup tasks performed by network administrators on a regular basis. Usually, administrators need to export the entire registry with the exception of certain keys that store passwords or some specific settings. Now these keys can be skipped during export. Network administrators can configure the application to export either selected keys only, or the entire registry with the exception of specified keys. These two approaches supplement each other and allow administrators to use an optimal configuration for their particular situation", Thorarinn Oskarsson, CEO at EMCO Software, says.
The improved registry export feature is provided by both the EMCO Remote Registry Exporter and EMCO Remote Registry Merge tools. The export operation can be performed for either one or multiple Windows PCs located in a local network. Registry data exported by the applications are stored as files in a RegEdit-compatible format and can be used for data analysis and data restore purposes. Both tools allow system administrators to execute registry export and other available operations either manually on demand or automatically on schedule.
EMCO Remote Registry Exporter is a free software application that offers remote registry data export and backup functionality. EMCO Remote Registry Merge is commercial software that includes remote registry export features and can also be used as a remote registry editing tool. It allows network administrators to apply registry changes remotely on one or multiple network PCs. In particular, it can be used to restore previously exported registry data or change the required registry keys and values across a network.
Pricing and Availability
EMCO Remote Registry Merge and EMCO Remote Registry Exporter can run on the Windows platform starting from Windows XP through the latest Windows x86 and x64 desktop and server platforms. A free copy of EMCO Remote Registry Exporter can be downloaded without registration at http://emcosoftware.com/remote-registry-exporter. A time-limited evaluation version of EMCO Remote Registry Merge can be downloaded at http://emcosoftware.com/remote-registry-merge. For EMCO Remote Registry Merge, two licensing options are available: a site license and an enterprise license at the price of $179 and $265 respectively.
About EMCO Software
EMCO Software is a provider of integrated software solutions that help organizations to reinvent approaches to their computer networks management. EMCO Software's award-winning products enable organizations to manage their IT environments remotely and automate network administration procedures, including network inventory, software deployment, power management, and network and security control. Founded in 2001, EMCO Software is headquartered in Reykjavik, Iceland, with operations around the globe. Today, more than 20,000 organizations in 85 countries, including Fortune 100 and Fortune 500 companies, trust EMCO Software products. For more information, visit http://emcosoftware.com.