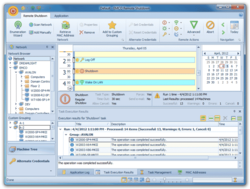 It's really easy to install the application on a server, configure it once and then let it run in an auto-pilot mode saving power and making the organization greener.
San Francisco, CA (PRWEB) April 26, 2012
EMCO Software, a leading provider of remote power management software solutions for networks, announces the availability of a new version of its remote shutdown software. The new EMCO Remote Shutdown version 5 is aimed at helping network administrators to manage Windows PCs across corporate networks remotely from a centralized console. Network administrators can shut down, wake up, reboot one or multiple network PCs, send a message to users and perform other operations to manage remote PCs. Using the application, IT professionals can execute computer management operations remotely and schedule them for automatic execution at a defined time.
IT departments of companies and organizations can use EMCO Remote Shutdown to comply with best practices in power management, reduce electric power consumption and save power costs. The application allows network administrators to automate PC power management across the entire organization. Administrators can configure the application to turn off unused PCs in the evening and turn them on automatically the next morning. This prevents power wasting caused by users' keeping their PCs running in an idle mode during nights and weekends. This simple power management action doesn't compromise any functionality for end users but can save as much as $50 in power costs per PC per year on average.
"The key principle of effective power management is to turn unused devices off to reduce energy wasting. Unfortunately, corporate users don't care too much about it. As a result, about half of all corporate desktops stay turned on during non-business hours. It's a huge energy and money waste, which can be avoided by using EMCO Remote Shutdown. Companies and organizations can implement power management easily without investing into a costly hardware upgrade. Our public sector and corporate clients, including Fortune 500 companies, have saved thousands dollars every year after they started using our solution. It's really easy to install the application on a server, configure it once and then let it run in an auto-pilot mode saving power and making the organization greener", Thorarinn Oskarsson, CEO at EMCO Software, says.
EMCO Remote Shutdown 5 offers an improved scheduling functionality. The application can work as a Windows service, so network administrators can simply install it on a server and let it run automatically to execute scheduled tasks in the background.
"The new features introduced in version 5 are targeted at using the application in enterprise environments managed by multiple network administrators. The new version can work as a service on a server to execute scheduled power management tasks. Network administrators no longer need to start the application manually in order to run scheduled tasks. All scheduled tasks will be executed automatically as long as the server is powered on thus reducing the probability of a human mistake", Thorarinn Oskarsson, CEO at EMCO Software, says.
Pricing and Availability
EMCO Remote Shutdown can run on the Windows platform starting from Windows XP through the latest Windows x86 and x64 desktop and server platforms. A time-limited evaluation version of EMCO Remote Shutdown can be downloaded without registration at http://emcosoftware.com/remote-shutdown and http://remote-shutdown.net/. The license price depends on the number of PCs to be managed and starts at $99 for 25 PCs. A license that allows managing an unlimited number of PCs in one company/organization location costs $389.
About EMCO Software
EMCO Software is a provider of integrated software solutions that help organizations to reinvent approaches to their computer networks management. EMCO Software's award-winning products enable organizations to manage their IT environments remotely and automate network administration procedures, including network inventory, software deployment, power management, and network and security control. Founded in 2001, EMCO Software is headquartered in Reykjavik, Iceland, with operations around the globe. Today, more than 20,000 organizations in 85 countries, including Fortune 100 and Fortune 500 companies, trust EMCO Software products. For more information, visit http://emcosoftware.com.