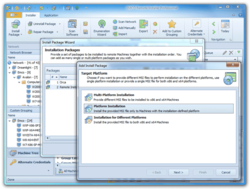 EMCO Remote Installer version 4 includes over 50 new features and improvements designed to simplify remote software deployment in Windows networks.
San Francisco, CA (PRWEB) December 26, 2012
EMCO Software, a leading vendor of software deployment and distribution solutions for Windows networks has announced the availability of a new version of its EMCO Remote Installer software. EMCO Remote Installer version 4 is a major update of the previous version of the application released over two years ago. The new version includes over 50 new features and improvements designed to simplify remote software deployment in Windows networks.
EMCO Remote Installer 4 has been released in two editions. The Free edition can help network administrators to audit software installed on remote Windows PCs across a local network. Administrators can get detailed software reports for every remote PC as well as for a selected group of PCs, such as an Organizational Unit in Active Directory, a domain or an entire network. The Free edition allows network administrators to install and uninstall a single MSI package on a single network PC silently and remotely. The commercial Professional edition of the application offers additional features designed to automate software deployment in large networks. Using the Professional edition, network administrators can install and uninstall multiple MSI packages on multiple PCs simultaneously.
One of the most expected features introduced in EMCO Remote Installer 4 is customization of remote install and uninstall operations. Network administrators can customize MSI installations performed on remote PCs by applying MSI transformations. The application also allows passing custom properties to Windows Installer upon MSI install and uninstall. If customization can't be performed by using MSI properties and MST files, network administrators can configure EMCO Remote Installer 4 to run executable files, script files, Power Shell scripts and Shell commands before or after an MSI installation on remote PCs.
The Professional edition of the application offers network administrators various scheduling options. Those options allow administrators to schedule remote install, uninstall and software scan tasks to be executed automatically. Remote tasks can be scheduled either for one-time execution on a defined date and time or for recurrent execution, for example, daily or weekly. The target PCs configured in a remote task can be changed over time. It's an important and highly demanded feature for recurrent tasks that are configured only once and executed multiple times. EMCO Remote Installer 4 allows configuring target PCs using a query executed every time before the task execution in order to get a dynamic group of target PCs. Using this approach, network administrators can execute remote tasks on all PCs that belong to a particular group, such as an Organizational Unit in Active Directory or an entire domain, for example.
"In addition to functionality improvements, the new version of EMCO Remote Installer includes a new high-performance networking engine optimized to work in large networks. It can operate successfully with a good performance in networks including up to 10,000 PCs. Also, the new version is designed to save the network bandwidth and can not only distribute installations from a central location to network PCs but also install applications from installations stored on local network shares. It can significantly reduce the network workload in large networks," Thorarinn Oskarsson, CEO at EMCO Software, says.
Pricing and Availability
The free and commercial editions of EMCO Remote Installer 4 can be downloaded without registration at http://emcosoftware.com/remote-installer. The commercial edition of the application, which allows managing up to 25 remote PCs, can be evaluated for free during 30 days. The free edition of the application can be used free of charge for personal and commercial needs. The license prices for the commercial edition vary from $49 to $445 depending on the number of network PCs that should be managed remotely. Owners of licenses for version 3 can upgrade to version 4 at special upgrade prices starting from $19.
About EMCO Software
EMCO Software is a provider of integrated software solutions that help organizations to reinvent approaches to their computer networks management. EMCO Software award-winning products enable organizations to manage their IT environments remotely and automate their network administration procedures, including network inventory, software deployment, power management, and network & security control. Founded in 2001, EMCO Software is headquartered in Reykjavik, Iceland, with operations around the globe. Today, more than 20,000 organizations in 85 countries, including Fortune 100 and Fortune 500 companies, trust EMCO Software products. For more information, visit http://emcosoftware.com.