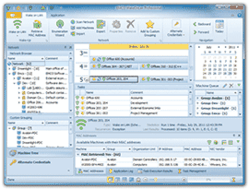 The free version of EMCO WakeOnLan is the first and only freeware solution optimized for managing groups of computers across a network.
San Francisco, CA (PRWEB) March 27, 2012
EMCO Software has delivered a free update for EMCO WakeOnLan 1.2 allowing running the application on Windows PCs with installed .NET Framework 4.0. The new version of the application is compatible with the latest versions of .NET Framework 3.5 and 4.0 and can work on systems running .NET Framework 3.5 Service Pack 1 and above. EMCO Software has also announced a future support of .NET Framework 4.5, which will be distributed by default with the upcoming Windows 8 and Windows 8 Server operating systems. The compatible version of EMCO WakeOnLan will be released before the Windows 8 Release to Manufacturers (RTM), which is expected later on this year.
EMCO WakeOnLan 1.2 is designed to help network administrators and IT professionals using the Wake-on-LAN (WOL) technology in networks of any sizes, including small office, enterprise and distributed networks. The free version of EMCO WakeOnLan is the first and only freeware solution optimized for managing groups of computers across a network. Network administrators can use it for free to power on computers remotely at the start of a working day, to install security patches and updates, or in other cases when computers should be turned on remotely.
EMCO WakeOnLan works as a Windows application with GUI allowing network administrators to entirely automate Wake-on-LAN tasks. It automatically performs all the steps that should be made to wake up selected computers, including network enumeration, collecting MAC addresses from network computers and sending WOL packets. Unlike various command-line WOL utilities, EMCO WakeOnLan is capable of detecting MAC addresses of remote PCs automatically using different methods suitable for different situations and network environments. It saves administrators the effort of writing scripts to extract the MAC addresses information and maintaining the MAC addresses database in case the network environment is changing. Another unique feature of EMCO WakeOnLan, which distinguishes it from other Wake-on-LAN solutions available today, lies in its ability to manage multiple computers in parallel to increase performance, which is critical when managing large networks. EMCO WakeOnLan can extract MAC addresses from or send WOL packets to multiple computers at once to guarantee the best-in-class performance.
"Usually, Wake-on-LAN utilities are designed to work with a single computer only. It's really difficult to use them for waking up a group of computers in a large network. When using command-line WOL utilities, network administrators have to write scripts to extract MAC addresses from remote computers and to execute WOL for every computer. This approach is pretty complicated, and waking up even a hundred of network devices may take a while. Our goal is to offer a better solution, that's why we continue working on performance optimization of our Wake-on-LAN utility. The latest EMCO WakeOnLan 1.2 release includes a number of performance and system resources usage optimizations that allow managing up to a few thousands computers using a single copy of the application", Thorarinn Oskarsson, CEO at EMCO Software, says.
For IT departments adopting Wake-on-LAN technology in large enterprise networks, EMCO Software offers a commercial version of EMCO WakeOnLan. This version introduces a concept of WOL tasks configured once and executed anytime on demand or automatically on schedule. The commercial version is capable of extracting MAC addresses of all network computers from the Microsoft DHCP server. This approach works much faster than extracting MAC addresses directly from every network computer that is powered on. Furthermore, the Microsoft DHCP server can report MAC addresses of all network computers, including those that are turned off at the moment, so network administrators don't need to worry about the completeness of the collected MAC addresses information. Administrators managing large networks can benefit from executing a Wake-on-LAN task for a dynamic group of computers. In particular, they can schedule WOL execution for all computers in a given organizational unit in Active Directory. This operation will be executed for the always up-to-date set of computers regardless of any changes in the organizational unit.
"The commercial version of EMCO WakeOnLan is selected by IT departments of companies and organizations that need to automate their processes and use the Wake-on-LAN technology for various administration tasks, for example powering on computers on schedule at night in order to install software updates. In the new release of EMCO WakeOnLan 1.2, we have improved several features to let network administrators use the application more effectively for different kinds of typical network administration tasks", Thorarinn Oskarsson, CEO at EMCO Software, says.
Pricing and Availability
The free and commercial versions of EMCO WakeOnLan can run on the Windows platform from Windows XP through the latest Windows x86 and x64 desktop and server platforms. The free version and a time-limited evaluation of the commercial version can be downloaded directly without registration from http://emcosoftware.com/wake-on-lan and http://wake-on-lan.net/. For the commercial version, two licensing options are available: a site license and an enterprise license with the price of $179 and $265 respectively.
About EMCO Software
EMCO Software is a provider of integrated software solutions that help organizations to reinvent approaches of their computer networks management. EMCO Software's award-winning products enable organizations to manage their IT environments remotely and automate network administration procedures, including network inventory, software deployment, power management, and network and security control. Founded in 2001, EMCO Software is headquartered in Reykjavik, Iceland, with operations around the globe. Today, more than 20,000 organizations in 85 countries, including Fortune 100 and Fortune 500 companies, trust EMCO Software products. For more information, visit http://emcosoftware.com.