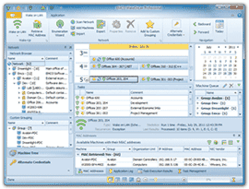 Using the new version of EMCO WakeOnLan, customers planning to upgrade to Windows 8 or Windows Server 2012 can start upgrade preparation procedures right now.
San Francisco, CA (PRWEB) July 31, 2012
EMCO Software has released a new version of EMCO WakeOnLan software designed to work in enterprise networks to allow network administrators to wake up PCs remotely using the Wake-on-LAN technology. The new version of the application is now compatible with x86 and x64 versions of Windows 8 and Windows Server 2012 platforms. As a result, the Wake-on-LAN utility from EMCO can work on Windows 8 and Windows Server 2012, which will be released later on this year, as well as interact with Windows 8 and Windows Server 2012 hosts remotely to perform wake-up operations.
EMCO WakeOnLan is a Windows .NET application that uses Microsoft .NET infrastructure. In the new release, the list of supported .NET versions has been extended to ensure compatibility with .NET Framework 4.5, which is due to be officially released later, together with Windows 8 release. Consequently, EMCO WakeOnLan becomes compatible with all .NET Framework versions available today, starting from .NET Framework 3.5 Service Pack 1.
"The Windows 8 and Windows Server 2012 release will be one of the most important technology events this year. Hundreds of our customers have already started evaluating new Windows platforms to plan migration procedures and complete their software upgrade by the end of this year. Using the new version of EMCO WakeOnLan, customers planning to upgrade to Windows 8 or Windows Server 2012 can start upgrade preparation procedures right now and test Wake-on-LAN in the new environment", Thorarinn Oskarsson, CEO at EMCO Software, says.
In addition to supporting the new Windows and .NET Framework versions, the new release of EMCO WakeOnLan includes other improvements. The main goal of the application is to simplify the Wake-on-LAN (WOL) technology usage in enterprise networks. EMCO WakeOnLan achieves it by offering different features designed to facilitate WOL usage in large networks. In particular, the application allows extracting MAC addresses of network PCs directly from the Microsoft DHCP server. It allows collecting MAC addresses automatically for all PCs at once within just a few seconds. Using EMCO WakeOnLan, network administrators can schedule an automatic execution of WOL tasks on a specific date and at a defined time. WOL tasks can be executed for dynamic groups of PCs configured by conditions. For example, network administrators can schedule a WOL execution for all PCs from a particular Organizational Unit in Active Directory. Even if the list of PCs in this Organizational Unit is changed over time, the application will execute WOL on the right PCs that are available in the Organizational Unit at a given time.
Pricing and Availability
Both free and commercial versions of EMCO WakeOnLan can run on the Windows platform from Windows XP through the latest Windows x86 and x64 desktop and server platforms. The free version and a time-limited evaluation of the commercial version can be downloaded directly without registration at http://emcosoftware.com/wake-on-lan or http://wake-on-lan.net/. For the commercial version, two licensing options are available: a site license and an enterprise license with the price of $179 and $265 respectively.
About EMCO Software
EMCO Software is a provider of integrated software solutions that help organizations to reinvent approaches to their computer networks management. EMCO Software's award-winning products enable organizations to manage their IT environments remotely and automate their network administration procedures, including network inventory, software deployment, power management, and network and security control. Founded in 2001, EMCO Software is headquartered in Reykjavik, Iceland, with operations around the globe. Today, more than 20,000 organizations in 85 countries, including Fortune 100 and Fortune 500 companies, trust EMCO Software products. For more information, visit http://emcosoftware.com.