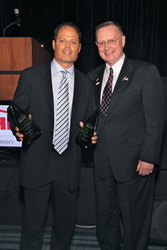 Green Street's national award and recognition is special to the City of Phoenix because the project symbolizes what we are trying to accomplish city wide, Phoenix Mayor Phil Gordon
Phoenix, AZ (PRWEB) June 18, 2010
The National Association of Home Builders (NAHB) recognized eleven outstanding achievements in green building, and four champions of green building advocacy at the 13th annual Green Building Conference in Raleigh, NC.
A project located in Phoenix was honored as the Green Remodel Project of the Year. The house is centrally located in the Pierson Place Historic District, at 150 W Elm St. This is the first home in the United States to achieve the highest level of NAHB green certification, Emerald, based on the National Green Building Standard, which is a rating system proven to improve a homes performance.
The 1200 square foot remodeled home resulted in improved energy efficiency of 70%, and water efficiency of 65%, or a $1600 annual savings. The dramatic reduction in energy and water use was achieved by improving the windows, HVAC, ducts, insulation, appliances, water heater, fixtures, lighting, irrigation system, roof, and doors. The home also features native landscaping, a backyard garden, soy stained concrete, and the reuse and recycling of onsite materials.
The award was presented to Phoenix based, Green Street Development. Green Street remodels distressed homes along the Phoenix Light Rail, making them green certified, as verified by LEED or the NAHB. Both green rating systems are third party verified.
In March 2009, Phoenix Mayor Phil Gordon spear headed the launch of Green Phoenix, which aims to significantly reduce carbon emissions in Phoenix. Upon the announcement of the Green Street award, Mayor Gordon said, "Green Street's national award and recognition is special to the City of Phoenix because the project symbolizes what we are trying to accomplish city wide; a reduction of carbon emissions by making existing buildings energy efficient."
In May 2010, Phoenix received a 25M grant from the Department of Energy to launch Energize Phoenix, which will retrofit existing structures along the Light Rail corridor.
Green Street Founder, Philip Beere, states "to be recognized by the NAHB is an honor, the award is a voice for the dozens of industry professionals in Arizona who are working hard to improve the performance of existing buildings, and reduce the impact buildings have on the environment."
Philip Beere was recognized by the NAHB for a second award, Green Advocate of The Year. "The dedication that Philip has shown to sustainable, environmentally-responsible home remodeling and renovation is remarkable," said Eric Borsting, chair of the NAHB Green Building Subcommittee. "He not only incorporates environmentally-friendly practices whenever possible, he reinvigorates neighborhoods in his community with energy-efficient and affordable housing, which benefits many families in the Phoenix area. Mr. Beere has been instrumental in raising awareness for making existing homes perform better; his educational outreach to universities, the State of Arizona, home builders, contractors, municipalities, and professional organizations has inspired others to follow suit." Green Street's Green Remodel Workshop is a nationwide education and training series.
Green Street is anticipating the completion of an additional 65 Emerald certified projects in 2010, as they are partnering with financial institutions to transform distressed inventory into livable homes that are energy and water efficient.
The majority of Green Street Homes average 20 days on market, and are priced from $95,000 to $165,000. Later this year, Green Street will launch a special phase of green certified rental homes.
###