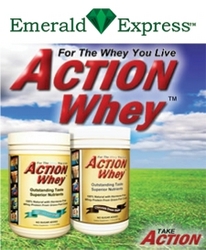 Glutathione is one of the most important components of overall health yet discovered.
Newark, NJ (PRWEB) May 27, 2010
Emerald Express International, a visionary company dedicated to bringing the highest-quality consumable nutritional products to the online shopping community, has been selected to be featured on the award-winning educational television program, "Insights" with Hugh Downs, as part of an upcoming segment on Glutathione and its effects on anti-aging and disease. The segment, which will be distributed via Public Television channels nationwide, is scheduled for airing this Spring.
Adrian Goad, President of Emerald Express and a nutrition research expert, who was approached by "Insights" for the company's extensive research on the connection between Glutathione and anti-aging, states, "Glutathione is one of the most important components of overall health yet discovered." How so? Scientists have proven that antioxidants counteract free radicals – the culprits underlying the cause of most disease as well as signs of aging. Glutathione is the body's master antioxidant. When Glutathione levels are sufficient, we are better able to prevent illness, disease and the degenerative processes of aging.
Goad also notes that in recent years, scientific breakthroughs show we can actually slow down the biological clock, and extend both life expectancy and quality of life. Keys to longevity relate to optimal nutrition, exercise, weight management, stress reduction and changing lifestyle. "To fight against free radicals, we need to keep antioxidants up at an optimal level, but in particular, we need to learn how to keep glutathione at a high level."
Dr. Mark Houston, Director of the Center for Anti-Aging and a Board Certified physician in anti-aging also appearing on the program, explains, "The body can make glutathione, but needs the amino acids Glutamic Acid, Glycine and Cysteine, which is most vital since its availability determines how much Glutathione the body can produce. Cysteine is hard to get in your normal diet, however, so must be taken in special forms. The best form is whey protein, which if consumed on a daily basis builds Glutathione levels and improves the intracellular antioxidant profile."
Dr. Houston goes on to stress that it is important to keep whey protein biologically intact to simulate exactly what it would be in nature – as if it came from the cow or mother. "Over-processed whey is denatured, changing the chemical structure to make it less biologically active."
Chosen for its commitment to educating the public on the subject of health and being a pioneer in producing health-related products of the highest quality, Emerald Express has created an unparalleled whey protein that fits the ideal formulation profile mentioned by Dr. Houston. "Action Whey is the only whey protein on the market that maintains the quality I mentioned, and meets all the standards of a superior whey protein."
Known for its long-running track record of producing some of the very best programming in any industry, "Insights" helps enrich viewers' lives with one-of-a-kind documentaries and diverse information on a variety of topics and industries. The Emerald Express program will air on numerous Public Television stations across the country; plus an accompanying corporate documentary and Action Whey commercial will run in many of the top 200 metropolitan areas on major networks such as CNBC, MSNBC, FOX News, TLC, FamilyNet, Discovery Channel and others during peak and primetime, plus appear on InsightsHD.com, YouTube.com, Google, and WebMD.com.
For an immediate download of an e-report on Glutathione's Health Benefits, request yours at http://www.actionwhey.com. For more information on Emerald Express International, visit http://www.emeraldexpress.com.
# # #