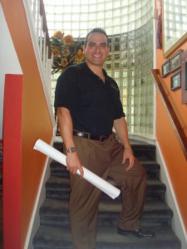 There are emergency plumbers, but you don't see to many "emergency contractors"...
San Antonio, TX (PRWEB) May 31, 2013
Besides the police, who do you call if a car or truck accidentally crashed through your home or business? Unfortunately, for one local business owner, this is exactly what they where faced with when a patron accidentally drove through their storefront.
Fortunately Danny Garcia, owner of Rhino Design Build, was the company who received the phone call during this unfortunate incident. Working closely with the business owner, Danny Garcia quickly realized the frustration the business owner was facing in time of need, which is why Rhino Design Build is now offering emergency construction services to their service portfolio.
Many contractors don't take into account how vital it is to secure a business filled with inventory or a home open to the elements as quickly as possible. There are emergency plumbers, but you don't see to many "emergency contractors", Garcia stated.
Rhino Design Build will now offer emergency construction services to include:

Fire Damage
Storm Damage
Auto Accident Building Damage
Auto Accident Home Damage
Window or Glass Replacement
Hail Damage
Security Protection for Property
Fallen Tree Building Repair
Lightning Strike Repair
Rhino Design Build will make sure your home or office is quickly secured by using temporary fencing, plywood at point of entry or even hire a security guard if needed. Additionally, they will work closely with your insurance company to ensure the property damage is repaired in the quickest amount of time possible.
Rhino Design Build is a local room addition and home builder in San Antonio, TX. Learn more about their services at http://www.remodeling-sanantonio.com/.