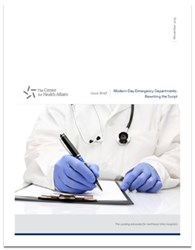 Cleveland, OH (PRWEB) December 11, 2013
The Center's most recent publication,Modern-Day Emergency Departments: Rewriting the Script, discusses recent trends in today's emergency departments. Specifically, this white paper examines what's behind the rise in emergency department visits and how the role of the ED has changed over the last century.
In recent decades, the role of the emergency department has evolved from one involving mostly life and limb-threatening injuries and illnesses to one that involves a wide range of patient needs, from primary care to trauma care. At the same time, the emergency department's role as a pathway to the healthcare system has grown in recent years – accounting for nearly half of all new hospital admissions. This issue brief identifies several key factors which have accounted for the increase in emergency department visits as well as initiatives and strategies intended to ensure EDs are functioning as efficiently as possible while connecting patients to the right care, at the right time in the right place.
To learn more about the rise in emergency department visits and how EDs have transformed to meet the demand, contact Tony Gutowski, public policy development manager, via email or at 216.255.3610.
A full list of The Center's publications can be found on the website along with a wide range of resources covering a variety of health policy issues.
###
The Center for Health Affairs is the leading advocate for Northeast Ohio hospitals, serving those organizations and others through a variety of advocacy and business management services. The Center also works to inform the public about issues that affect the delivery of health care. Formed by a visionary group of hospital leaders 96 years ago, The Center continues to operate on the principle that by working together hospitals can ensure the availability and accessibility of health care services. For more on The Center, go to http://www.chanet.org.