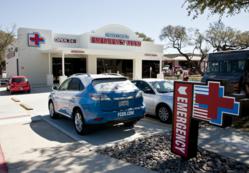 Lewisville, TX (PRWEB) April 17, 2013
First Choice Emergency Room invites the local community to their Austin Arboretum facility on April 20th to enjoy gourmet ice cream sandwiches from CoolHaus as well as win concert tickets to Carrie Underwood and Taylor Swift from Majic 95.5. Attendees will also have the chance to take a quick tour of the facility and spend time with First Choice ER's physicians, nurses, radiology techs and front office staff.
"We are looking forward to having the chance to interact with our neighbors in a more relaxed setting," said Dr. Stephen Van Roekel, Facility Medical Director of First Choice ER's Austin Arboretum facility. "We are committed to providing the local community with the highest quality emergency medical care."
Mix 94.7 will be giving away tickets to Disney on Ice at the Austin Arboretum facility during the week leading up to the event. They will be on site from 5pm-6pm on April 17th and April 19th. Majic 95.5 will be at the facility giving away concert tickets on April 20th from 2-4pm.
The CoolHaus Food Truck serves gourmet ice cream sandwiches, allowing people to create their own sandwiches from various ice cream and cookie flavors. The CoolHaus truck will be at the Arboretum facility from 12pm-3pm.
All First Choice Emergency Room facilities are open 24 hours, 7 days per week. The Austin Arboretum facility is located at 10407 Jollyville Road, Austin, TX 78759 and can be reached at 512.628.0407. For more information about First Choice ER's Arboretum facility, please visit http://www.FCER.com/locations/Austin-area/arboretum/.
About First Choice Emergency Room
First Choice Emergency Room (FCER.com) is the nation's leading freestanding emergency room system; it is both largest and the oldest. First Choice Emergency Room is revolutionizing the delivery of emergency medical services for adult and pediatric emergencies, both major and minor. First Choice Emergency Room facilities are innovative, freestanding, and fully equipped emergency rooms with state of the art diagnostic technology (CT Scanners, Ultrasound, and Digital X-ray) and on-site labs. First Choice Emergency Room was named one of the 2013 Best Companies to Work for in Texas. All First Choice Emergency Room locations are exclusively staffed with board-certified emergency physicians and emergency trained registered nurses. First Choice ER has nine locations in the Houston area, five in the Dallas/Ft Worth area, two in the Austin area and one in Colorado Springs. According to patient feedback collected by Press Ganey, FCER provides the highest quality emergency medical care—topping all hospital and other freestanding ER providers in its region and ranking in the 99th percentile of patient care nationally.
For more information contact Claire.Gibson(at)FCER(dot)com.