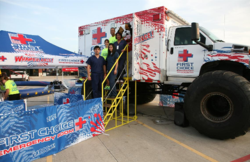 Flower Mound, TX (PRWEB) October 16, 2012
First Choice Emergency Room, the leading freestanding emergency room system in the United States, will host an event at their Murphy, TX location to introduce the community to First Choice ER as an alternative option should a medical emergency arise. Attendees will have the opportunity to familiarize themselves with the facility as well as interact with the board-certified physicians, registered nurses, technicians and staff of First Choice Emergency Room.
The First Choice ER Whambulance will park outside the company's Murphy facility on October, 20, 2012 from 12:00 to 4:00 p.m. Attendees are welcome to take photos by the vehicle and sign up to win a remote control mini-Whambulance. The Whambulance is complete with 66 inch tires and the converted 2005 Chevrolet Kodiak Heavy Duty Ambulance is now 14 feet tall, 13 feet wide and 25 feet long.
"We are looking forward to having the Whambulance at our facility and interacting with the Murphy community in a more relaxed setting," said Dr. Deeb Facility Medical Director at First Choice's Murphy facility. "Our patients are particularly pleased with the quick access to board-certified emergency room physicians and we are committed to continuing to serve the Murphy community for many years to come."
In collaboration with 99.5 The Wolf, one of Dallas-Fort Worth's leading country radio stations, attendees will also have the chance to win State Fair Tickets as well as tickets to Nascar at Texas Motor Speedways.
"Wolf listeners love fun family events and personally, I can't wait to check out the First Choice ER Whambulance," said longtime midday host Smokey Rivers. "We'll be giving away great prizes so make sure you come out and join us in Murphy at First Choice Emergency Room."
First Choice ER physicians are board-certified and all registered nurses are emergency trained. The facility is equipped with state of the art diagnostic technology, including CT scanners, ultrasound machines and digital x-rays, and on-site COLA & CLIA accredited laboratories to handle emergency needs on the spot.
All of First Choice Emergency Room's facilities are open 24 hours a day, seven days per week.
The Murphy facility is located at 211 E FM 544, Suite 401, Murphy, TX 75094 and can be reached at (972) 826-4400. Dr. Kenneth Deeb, is the facility medical director, earning his medical degree from the University of Louisville School of Medicine.
For more information about First Choice Emergency Room Murphy, the Whambulance, or any of the facilities, please visit http://www.fcer.com.
Visit the Murphy First Choice ER web page at http://www.fcer.com/locations/dallas-map/murphy/, find them on Google+ at https://plus.google.com/108552165117002587434/about or see a video tour at http://www.youtube.com/watch?v=CZyVM0Z1S28.
About First Choice Emergency Room
First Choice Emergency Room (http://www.FCER.com) is the nation's leading freestanding emergency room system; it is both largest and the oldest. First Choice Emergency Room is revolutionizing the delivery of emergency medical services for adult and pediatric emergencies, both major and minor. First Choice Emergency Room facilities are innovative, freestanding, and fully equipped emergency rooms with state of the art diagnostic technology (CT Scanners, Ultrasound, Digital X-ray) and on-site labs. All First Choice Emergency Room locations are exclusively staffed with board-certified emergency physicians and emergency trained registered nurses. With eight locations in the Houston area, four in the Dallas/Ft Worth area and one in the Austin area, patients receive high-quality care and have an alternative to today's overburdened hospital system.
For more information call (972) 899-6642 or contact Claire.gibson(at)fcer(dot)com.