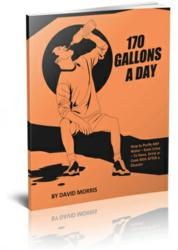 170 Gallons a Day will instantly give readers a proven plan to follow, and save them time, effort, and money.
Austin, TX (PRWEB) December 14, 2012
Emergency water filtration should be at the forefront of any survival preparations, but the latest article from AbsoluteRights.com said it's often underestimated. Absolute Rights wanted to help people understand and achieve the water supply needs they will have should their taps become interrupted. Together with some of the best experts in the field, they have produced a go-to guide that will show anyone how to provide clean, purified water for after a crisis, said the article.
170 Gallons a Day has been referred to as the easiest and most practical system for almost unlimited clean water supplies in the world. The article said it has already shown thousands of people how to devise a plan to collect, clean, and store water no matter how much is coming out of the tap, even if it's none.
The Special Report from Absolute Rights shares the biggest dangers to survival from contaminated water and dehydration. 170 Gallons a Day also guides people in determining exactly how much water they will need, and how to prepare accordingly. It can save a fortune and a half with the calculating resources alone, said the article.
Crises in the water supply can happen in a number of ways, according to Absolute Rights. A flood or hurricane could damage underground pipes, and contaminate supplies with waste and harmful substances. A well or reservoir could become compromised, and a boil notice could come into effect. The well-documented dry weather patterns could eventually catch up with the agriculture industry, and the amount of clean water available to Americans could quickly become scarce.
The article said the good news is that water is abundant, just not the crystal-clear, purified and bottled stuff that can be bought from store shelves. Water too dirty and too hard to collect can still be acquired, but only with the information that 170 Gallons a Day provides, said the online piece. It will show folks how to spot the best sources of water, and how to ensure its safe to drink, clean with, and cook with.
170 Gallons a Day will instantly give readers a proven plan to follow, and save them time, effort, and money. There are costly mistakes that can be made, and it could put people in more danger than not having water at all. 170 Gallons a Day will help avoid those problems and give the power of water to anyone who needs it.
Absolute Rights informs patriotic Americans on their given rights, plus helps protect those rights from government or disaster intrusion. Most importantly, it prides itself on alerting people when their rights are being threatened, creating an active and informed community. For more information, be sure to visit AbsoluteRights.com. Gain access today to 170 Gallons a Day, the preeminent resource on emergency water filtration.