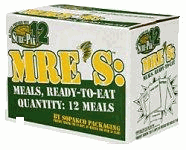 We're stocking ample supplies of MRE (meals ready to eat), water and first aid kits for our customers in the Midwest and southern United States.
Fulton, NY (PRWEB) May 09, 2011
As the Midwest and Southern United States brace for more tornadoes and severe weather, CampingSurvival.com announced that they have purchased additional stock so that customers can order enough emergency supplies to keep their car and home stocked in a snow emergency.
"We've been keeping an eye on the National Weather Service Storm Prediction Center and the forecast for additional strong storms covers a huge area," said Tom Sciacca, President of CampingSurvival.com. "The National Weather Service has issued a tornado warning for parts of the Midwest, as well as high wind warnings for the southern US, plus flash flood warnings for numerous Midwest and southern states.
"Ironically, during a flood, clean drinking water can be the most difficult thing to find, as municipal water treatment facilities get overrun with dirty water," he explained. "We're stocking ample supplies of MRE (meals ready to eat), water and first aid kits for our customers in the Midwest and southern United States."
CampingSurvival.com recommends the following supplies for every household:

An ample supply of MRE and water (up to 3 gallons per person, per day)
Extra clothing, along with pillows and blankets
Flashlight, emergency radio and batteries
First aid kit
In addition, Sciacca advises all families to keep a "go bag" that contains neatly packed emergency supplies in a single container, ready to pack in the car if evacuation becomes necessary. The go bag should contain items like first aid supplies, MRE, and paracord for tying or repairing items.
Paracord is a lightweight nylon kernmantle rope originally used in the suspension lines of US parachutes during World War II. Once in the field, paratroopers found paracord useful for many other tasks. Paracord is now used as a general purpose utility cord by both military personnel and civilians, and was even used by astronauts during STS-82, the second Space Shuttle mission to repair the Hubble Space Telescope.
"During a flood or after a tornado, emergency personal are stretched to the maximum," Sciacca noted. "The more you are able to fend for yourself or even help your neighbors in need, the easier you'll make it on the first responders who have countless others to help."
CampingSurvival.com stocks a variety of Brigford Foods ready-to-eat sandwiches for convenience and mobility, as well as Sopakco MRE (meals ready to eat) for at home. These meals have longer shelf life and are easier to prepare than most food kept in the pantry. Sciacca, a Gulf War veteran, explained that they are the same type of MRE used by the US military.
"If you keep your MRE in a dry, cool, constant temperature such as a closet or a dry basement, up off the ground the government says they can last for 10 years or more," Sciacca noted. "If you keep the MRE in your car, camper or attic it will reduce the shelf life, but they can still last for many years even in those conditions."
Sciacca advises that those in areas that may be affected by severe weather keep an eye on the National Weather Service's tornado warning and flood warning alerts, and be sure that they have adequate emergency supplies and first aid kits at home to protect themselves in a weather-related disaster.
CampingSurvival.com, an online authority on camping and wilderness survival gear, has also become a leader in disaster preparedness, helping to educate consumers on the best ways to protect themselves from unforeseen circumstance. Better education has led many families to take common sense measure to prepare themselves for the worst. This has created an increased demand for emergency kits, MRE (meals ready to eat), first aid kits and other supplies critical for household safety.
# # #