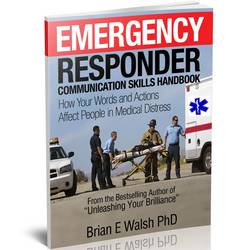 (PRWEB) November 29, 2010
Emergency workers have some of the most challenging jobs on the planet. Whether they are paramedics, fire-rescue personnel, police officers, or emergency medical technicians, they are constantly thrust into crisis situations.
The demands of an accident or disaster scene force them to concentrate so fully on the basic survival needs of the injured that an important component often goes missing: interpersonal communication.
Author Brian Walsh, PhD has set out to improve this situation. In his new book, Emergency Responder Communication Skills Handbook, he outlines tools and techniques for emergency workers to use to reduce casualties' feelings of vulnerability, distress, pain, and fear. As he says, "There are words and actions that support victim recovery, and there are there are others that can increase anxiety and distress."
Police lieutenant and doctoral candidate Jeffery Katz adds, "Through years of handling emergencies, first responders become accustomed to traumatic scenarios. It's called habituation, and is certainly not the case with casualties who, involved in perhaps a once-in-a-lifetime event, are often terrified, and badly need simple reassurance to make a world of difference. Brian Walsh's handbook is designed to complement existing emergency skills and enhance crucial people-helping competencies."
A communication specialist, Walsh drew from the fields of neurolinguistic programming and accelerated learning for the handbook. His contributors include paramedics, EMTs, firefighters, rescue and crisis responders, police officers, National Ski Patrol personnel, hypnotherapists, psychologists, nurses, and physicians.
The book was officially launched in September at the National Association of EMS Educators in Schaumburg, Illinois. For more information on the book, please visit http://www.ERcommSkills.com
# # #