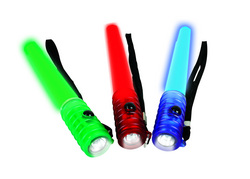 The mission of our company has always been to prepare the public prior to an emergency or disaster by designing potentially life saving features into everyday products that are useful, affordable, and readily available
Solana Beach, CA (Vocus) July 15, 2009
Life+Gear, the developer and manufacturer of life saving emergency preparedness products, announced the release of the first in its new line of innovative, multifunction LED flashlight products, the Life+Gear 200 Hour GlowStick. Designed with preparedness for natural disasters like hurricanes, tornadoes and earthquakes in mind, the multi-function GlowStick utilizes advanced LED light technology in a first of its kind combination product that addresses the four key features recommended by emergency and disaster response agencies: a flashlight, emergency flasher, signaling glow stick and high decibel whistle. In an emergency, the Life+Gear GlowStick allows victims to see when they are without power and to be seen or heard when in need of emergency assistance. Retailing at just $4.99, the Life+Gear GlowStick is widely available at major retailers nationwide.
Citing 2007 research from the Center for Catastrophe Preparedness and Response, 66% of US consumers are inadequately prepared for natural disasters when time and again it is shown that survival often depends on an individual's level of preparedness. "The mission of our company has always been to prepare the public prior to an emergency or disaster by designing potentially life saving features into everyday products that are useful, affordable, and readily available," commented Life+Gear President Dennis Bertken. "The advent of LED technology has been so exciting for us because it represents such a huge leap forward in almost every regard including a price point that is so good that we are even able to offer our customers a free set of replacement batteries on our website. Also, with an infinitely more efficient use of much smaller batteries, our products are made from 100% recyclable materials representing a much greener approach to the category. LED is absolutely the future of our business."
Recognizing that the battery and bulb life of traditional flashlights has long been the primary problems faced by those forced into dire circumstances by Mother Nature, great strides in LED technology by Life+Gear have virtually eliminated those issues and more. The Life+Gear GlowStick boasts 200 hours of illumination on just three wafer-thin AG-13 batteries. Compared to a traditional flashlight, LED bulbs and electronics reduce the GlowStick's weight more than 90% while increasing its functional product life to 10,000 hours. The Life+Gear GlowStick, available in three different colors, floats making it ideal for boats and camping, and its compact size makes it a permanent safety companion in purses, cars and backpacks.
Life+Gear products, including the Life+Gear 200 Hour GlowStick, can be found at major retailers through out the United States including Home Depot, Target, Kroger, Dicks Sporting Goods, REI and on-line through the American Red Cross.
For additional information about the Life+Gear 200 Hour GlowStick or other Life+Gear Emergency Preparedness Products, please contact lifegear@launchpadpr.com. Video presentation of the GlowStick.
About Life+Gear
Life+Gear is the most widely recognized developer and manufacturer of emergency preparedness products for consumer, schools and businesses in the U.S. Life+Gear is on the cutting edge of the development of everyday-use products that can also save lives. Nicholas Connor (CEO) and Dennis Bertken (President) founded Life+Gear soon after Hurricane Katrina struck in 2005. During their own efforts to provide relief to Katrina victims, the founders quickly realized that there was a major problem with the public not being prepared for emergency situations that stretched far beyond the failed levees in Louisiana. They uncovered two main issues: People did not know how to prepare themselves; and the thought of going on a search to purchase such doom and gloom products, if they could find and afford them, was not of interest to consumers. This revelation spawned the idea of every-day use items with life-saving features that would be readily available at major retailers nationwide. Since the release of their first product offering in 2005, Life+Gear has grown to be the most widely recognized brand of emergency preparedness products in the U.S.
###