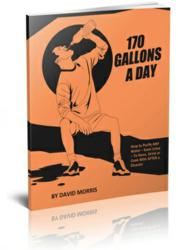 "170 Gallons a Day" promises a lengthy education on water purification, but it keeps things simple and concise so anyone can follow its directions.
Austin, TX (PRWEB) July 17, 2012
Emergency preparedness water can mean the difference between life and death, according to a recent article from AbsoluteRights.com. If a disaster strikes, having a stockpile of clean, safe water will award people the comforts they've come to expect when they aren't readily available.
That's the reasoning behind Absolute Rights' Special Report, "170 Gallons a Day: How to Purify Any Water—Even Urine—to Store, Drink, and Cook With After a Disaster." It is the quintessential guide for cleaning water and making it potable, no matter how dirty it is to start with, said the article.
With the state of the economy, public departments will not be able to handle disaster and emergency situations completely, the article said. If people want a chance at survival for themselves and their family, they will have to take preparedness measures in their own hands, especially emergency preparedness water supplies.
New disasters hit a different community every day, and there is no better time than the present to get prepared, the article said.
Floods, hurricanes, and even earthquakes can stop the flow of clean water to (and dirty water from) a home supply, said the article. If people are prepared in advance with personal emergency water filtration techniques, it can mean the difference in survival or death by dehydration.
That just happens to be the number one killer in post-emergency situations, said the article. Locating and cleaning water to be potable enough to drink, cook, and clean with is as vital as having food stockpiled. Since humans can last longer without food than they can without water, it takes precedence and should be considered the first step in any emergency preparations, the article said.
Any number of harmful substances can contaminate a water supply, and there's little opportunities to test and determine whether water is safe or not in times of crisis. To ensure every drop is as safe and healthy as possible, Absolute Rights is giving everyone the power to clean water with simple steps and procedures in their Special Report. That way, there will be no second-guessing and no dangerous toxins or poisons in a water supply.
"170 Gallons a Day" promises a lengthy education on water purification, but it keeps things simple and concise so anyone can follow its directions, the online article said.
Absolute Rights informs patriotic Americans on their given rights, plus helps protect those rights from government or disaster intrusion. Most importantly, it prides itself on alerting people when their rights are being threatened, creating an active and informed community. For more information, be sure to visit AbsoluteRights.com.
Once the need for clean water after a crisis becomes clear, the article said there's no other place to turn than "170 Gallons a Day." It's the proven strategy to cleaning, storing, and surviving off of safe, potable water for as long as needed. For the best emergency preparedness water system available, the article said to consult the Special Report and learn how easy it can be.