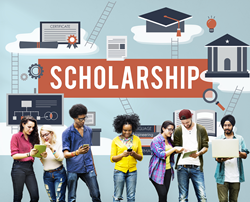 Houston, TX (PRWEB) July 24, 2017
SignatureCare Emergency Center is looking to award their 2017 Fall Scholarship. The $1000 student scholarship will be awarded for the fall semester to a deserving student. Get your applications in now as the deadline is approaching fast.
SignatureCare Emergency Centers Spring 2017 scholarship was awarded to Mariana Castillo who is a nursing student at Prairie View A&M University with a 3.45 GPA. Castillo was inspired to go into nursing to give back to her community after receiving lots of help from her friends, family and neighbors throughout a difficult time in her childhood.
"We received numerous applications that were very hard to choose, Ms. Castillo's essay stood out to us because it was very heartfelt," said SignatureCare Emergency Center's Chief Medical Officer, Aaron Braun.
SignatureCare started their scholarship fund Spring of 2016 and Castillo is the third SignatureCare Emergency Center Student Scholarship Award winner since its creation. SignatureCare awards a $1,000 scholarship twice a year, once for Fall Semester and one for Spring Semester. The scholarship is open to students across America, the applicants must be studying in the medical field, with a 3.0 GPA, and are required to submit a video and an essay answering the question, "who Inspired you to enter the medical field?"
"Ms. Castillo displayed a true passion for her career in nursing and we are proud to announce her as our Scholarship Recipient," said Braun. "We felt that by investing in her education, we were investing in our community."
For more information about the SignatureCare Emergency Center Student Scholarship visit: http://ercare24.com/scholarship/ Hurry and apply before July 31st 2017. All the details and information are available on our website.
About SignatureCare Emergency Center
Licensed by the Texas Department of Health Services, SignatureCare Emergency Centers are freestanding emergency rooms that are always open. SignatureCare has multiple locations in the Houston, Austin and College Station areas with each offering state-of-the art medical imaging, and X-rays. All our emergency rooms are fully staffed with medical professionals, including board-certified physicians, licensed nurses, radiology technicians, and emergency-trained ancillary staff. All SignatureCare Emergency Centers are open 24/7- 365 days a year.
For more information on SignatureCare Emergency Center and its locations visit http://www.ercare24.com.