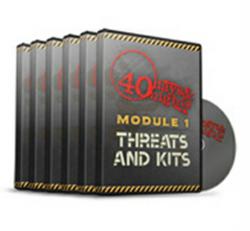 Austin, TX (PRWEB) May 08, 2012
FEMA would say emergency preparedness levels in the United States are good, but the latest AbsluteRights.com article said they're far from great. Horrible disasters like Hurricane Katrina and the September 11 attacks remind us of what can happen when the unexpected arrives, and we're forced to rely on reactionary impulses and after-the-fact assistance. If another tragic emergency were to strike, how ready would we as a country really be?
It's important to remember the individual responsibility we all have to take care of our own preparations, the article said. Thankfully, Absolute Rights is doing something to help. "40 Days and 40 Nights" is the latest training course from the freedom preservation experts, and it's based around the simple fact that nine out of ten Americans are not prepared for a disaster.
No one can say they know how to survive a disaster alone unless they've truly faced the worst and used their accumulated survival skills to stay alive. Unfortunately, most people who are affected by severe disasters aren't around to share their experiences. The select few who took it upon themselves to make a plan, acquire skills, and prepare themselves were either smart or extremely lucky.
FEMA released the National Preparedness Report just last week, outlining the overall improved state of our nation's preparation levels based on individual statewide assessments and a series of official surveys and evaluations. The National Preparedness Report, or NPR, focuses on threats that pose the greatest risk to U.S. security and resilience, like terrorism, cyber-attacks, pandemics, and catastrophic natural disasters.
The NPR acknowledges room for improvement in specific areas like cyber-security and recovery-focused capabilities. While the recent progress is encouraging, there's still work to be done. "Everyone plays a role in preparedness, and continued progress depends on the whole community working together," said the report.
Indeed, it's the whole community that needs to address preparation levels and work towards a maximized state of readiness, said the article. Only then will emergency situations pose less of a threat to society's well-being.
Absolute Rights informs patriotic Americans on their given rights, plus helps protect those rights from government intrusion. Most importantly, it prides itself on alerting people when their rights are being threatened, creating an active and informed community. For more information, be sure to visit AbsoluteRights.com.
The online article said community preparation starts at the individual level, and Absolute Rights' exclusive training course will jump start the process. No matter how many survival skills has been learned or supplies have been stored, preparedness is a frame of mind that's only obtainable with practice and experience. That's why emergency preparedness steps are so crucial, the article said.