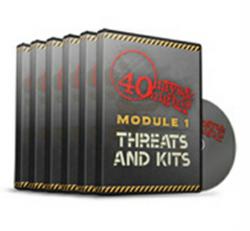 A true sense of personal preparedness can only be achieved by going beyond local emergency response plans.
Austin, TX (PRWEB) May 14, 2012
The most recent AbsoluteRights.com article said emergency preparedness response methods are lacking in this country, and the citizens of New Orleans, New York City, and many other areas would agree. Severe weather, terrorist threats, and the resulting fallout of any disaster can hinder the well-being of the wealthiest and smartest individuals if they haven't done enough to prepare.
To avoid the hazards of disaster, the article suggested joining Absolute Rights' new survival training course, "40 Days and 40 Nights." It informs people of the most important preparation steps they can take, and how to go about developing a plan that will keep them and their families safe for as long as needed.
The "40 Days and 40 Nights" course is headquartered at the exclusive members-only website. There, six different training modules provide the most valuable preparation and survival tactics available, said the article. The modules are offered as videos and downloadable PDF documents that are easy to follow and full of tips to battle any possible dangers that may jeopardize personal safety. It's a survival guide for everyone, easily absorbed through its actionable advice.
As seen with Hurricane Katrina and the September 11 attacks, the effects of any disturbance to societal stability are drastic, said the article. Besides the initial incident, which can obviously be deadly, the aftermath of such disasters is often just as hazardous. While federal, state, and local governments are trying to address the issue, the concepts of personal responsibility and self-sufficiency remain vital to individual survival.
The article said it's great to know action is being taken, but it still only goes so far in helping communities develop quality preparations. A true sense of personal preparedness can only be achieved by going beyond local emergency response plans. People should devote themselves to learning the survival skills needed to stay alive through any disaster, said the article.
Absolute Rights informs patriotic Americans on their given rights, plus helps protect those rights from government intrusion. Most importantly, it prides itself on alerting people when their rights are being threatened, creating an active and informed community. For more information, be sure to visit AbsoluteRights.com.
"40 Days and 40 Nights" will show anyone how to reach their full preparation potential, said the online article. Disasters wait for no one, and have little sympathy for the unprepared. For a full-scale emergency preparedness response plan, look to Absolute Rights' exclusive training course, and start the journey towards complete readiness.