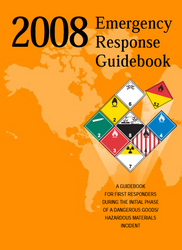 Chicago, Illinois (Vocus) January 24, 2008
The 2008 Emergency Response Guidebook is the first release of the ERG since 2004, containing new information for first responders in the event of an incident involving hazardous materials. The Guidebook provides a consistent and standardized approach for handling hazardous materials emergencies. Labelmaster, a manufacturer of regulatory compliance products, will print the updated 2008 Emergency Response Guidebook (ERG).
New in 2008:

Over fifty amendments to proper shipping names and ID numbers (United Nations numbers)
Lists of hazardous materials will be updated
Lithium Ion batteries entry will be added
Ethanol entries and identification numbers will be added
The "Initial Isolation and Protective Action Distance Table" will be split into two tables to better facilitate initial incident response actions for emergencies involving TIH (Toxic Inhalation Hazards)
The Emergency Response Guidebook is the foundation of many emergency response plans and incident management systems. It provides a consistent and standardized approach for first responders in the event of an incident involving hazardous materials. It is intended to assist responders in managing the first fifteen to thirty minutes of an emergency response, often the most critical moments. It provides crucial information concerning scene management and response procedures that can save lives and enhance public and environmental safety.
Since its introduction in 1976, the ERG has been and will continue to be the "go-to" reference for first responders faced with the possibility of a hazardous materials incident. This guidebook is published in a user-friendly format and is divided into five sections which are color coded to maximize efficiency and ease of use. The goal of the US Department of Transportation is for all public emergency responders to carry a copy of the ERG.
The ERG is developed jointly by the US Department of Transportation, Transport Canada, the Secretariat of Communications and Transportation of Mexico (SCT), and with the collaboration of CIQUIME (Centro de Informacion Quimica para Emergencias) of Argentina. The 2008 ERG represents the first publication since the Department of Transportation's Pipeline and Hazardous Materials programs were merged, so there will be new information introduced regarding pipeline markers.
Pre-ordering is recommended for best pricing and to secure preferential shipping status once books are available. For questions concerning availability, customization and personalization contact Estuardo Sanchez at estuardos@alc-net.com or call 773-279-2286. For ordering information visit http://www.labelmaster.com/ERG , call 1-800-621-5808, or email sales@labelmaster.com.
Labelmaster, established in 1967, is a developer, manufacturer, distributor, and marketer of hazardous materials compliance products, including labels, forms, packaging, software, and publications. The company's 40 years of experience in providing regulatory information and products for all transportation modes make it especially qualified as a total compliance resource. Labelmaster's compliance division is located at 5724 N. Pulaski Road in Chicago. Learn more about Labelmaster: http://www.labelmaster.com . For more information on Labelmaster's new products and catalogs: http://www.labelmaster.com/pressreleases .
# # #