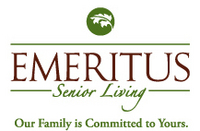 Our Family is Committed to Yours.
Seattle, WA (Vocus) April 2, 2009
Seattle, WA March 31, 2009-- Emeritus Senior Living, a national provider of assisted living and Alzheimer's and memory care services to seniors announces the steps it's taken to unify its brand across all communities through its brand promise, renamed communities, new collateral and its redesigned website. Emeritus Senior Living's brand promise, "Our Family is Committed to Yours." describes the fostering atmosphere at its communities, which is focused on family and community, creating a sense of place and belonging.
Additionally, the Company's communities in California, Connecticut and Kentucky have been renamed to include "Emeritus" in the community name in order to brand each as a part of the national Emeritus family, which is synonymous throughout the senior living industry for exceptional service, quality and professionalism. Florida, Texas and Ohio markets are undergoing name changes throughout 2009 as the Company has prioritized its 33 shared markets, which contain 122 Emeritus communities, so as to improve market positioning and sales conversion efficiency.
This past fall, Emeritus also announced the redesign of its homepage (http://www.Emeritus.com), which provides a more user-friendly website in order to better serve the needs of seniors and their loved ones. Emeritus is committed to utilizing the newly designed website as a resource to ensure that all seniors are able to make educated decisions about senior housing options and that all family members are supported in this process.
"We are proud of the Emeritus Senior Living name," says Jayne Sallerson, Senior Vice President of Marketing. "All across the country, Emeritus is known for its commitment to making a positive difference in the lives of the people it serves by fostering an atmosphere of family and community among its staff and residents. The Emeritus brand name reflects our ideals of respect, community, teamwork and value, and by taking these steps we are able to better ensure each is reflected consistently across our company."
For more information on Emeritus Senior Living, please contact Missy Day, Marketing Director at (800) 429-4828.
ABOUT THE COMPANY
Emeritus Corporation is a national provider of assisted living and Alzheimer's and related dementia care services to seniors. Emeritus is one of the largest and most experienced operators of freestanding assisted living communities located throughout the United States. These communities provide a residential housing alternative for senior citizens who need assistance with the activities of daily living, with an emphasis on personal care services, which provides support to the residents in the aging process. Emeritus currently operates 307 communities in 36 states representing capacity of approximately 27,000 units and 32,100 residents as of the date of this press release. Our common stock is traded on the New York Stock Exchange under the symbol ESC, and our home page can be found on the Internet at http://www.emeritus.com.
For more information:
Emeritus Senior Living
Missy Day
Marketing Director
3131 Elliott Ave., Suite 500
Seattle, WA 98121
(800) 429-4828
###