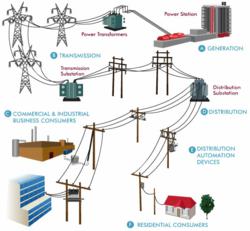 People can crank up the A/C to beat the heat WITHOUT cranking up their electric bill, all while protecting their family and electronics from possible damaging outages.
(PRWEB) August 01, 2012
The intense summer heat has not only created drought conditions across major portions of the United States, it has created a situation where the demand put on the national power grid can lead to brown outs and black outs.
A rolling blackout is an intentionally engineered electrical power shutdown where electricity delivery is stopped for a period of time in chosen areas. Rolling blackouts are an emergency measure used by an electric utility company to avoid a total blackout, where the demand for electricity exceeds the power supply capability of the network, and the network crashes.
Rolling blackouts generally result from two causes: insufficient generation capacity or inadequate transmission infrastructure to deliver sufficient power to the area where it is needed. Rolling blackouts are rare in the U.S. because demand is accurately forecasted, adequate infrastructure investment is scheduled and networks are well managed. Blackouts are unacceptable because of the potentially huge negative economic and social impact blackouts can have.
A rolling brownout happens when the electric power is temporarily reduced instead of being cut completely. Typically a utility will decrease system voltage by 10-25%, usually for a short period of time to prevent a grid from become overloaded. This reduction typically has minimal effect on heat and lighting systems. Lights may flicker and dim during a brownout. However, the voltage fluctuations can be harmful to more sensitive equipment, like computer hard drives and similar types of electronics.
A new energy savings device that also dramatically lower the electromagnetic fields (EMFs) in a home can be implemented by simply plugging it into an electrical outlet. This device then filters the electricity, ensuring a steady, usable flow of electricity to ones home or apartment. The results of this device are dramatic electrical usage savings, from 8% to 20%, by eliminating much of the wasted, fluctuating electricity that spins the meter but is unable to power equipment.
Freedomfflow LLC is working to promote wide spread adoption of this energy savings device to not only create immediate savings in people's home budgets and to protect residents from harmful EMFs, but to also reduce the demand on the national grid and reduce the possibility of regional power outages. This device is a step in the green direction. Green is much nicer than brown and black in this case.
For more information on this energy savings device for home or business, or quesitons about rolling blackouts or brownouts, please contact Freedomfflow LLC by calling (650) 241-8594 or visiting our energy website .