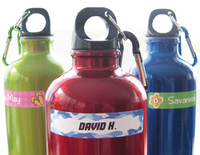 Personalized labels provide some insurance that a child's backpack, expensive hoodie, or sports gear returns home again.
Vancouver, BC (PRWEB) July 28, 2010
Every year parents invest hundreds of dollars and plenty of time purchasing kid's back-to-school clothing and supplies and every year the average child unwittingly donates these items to the ever-growing Lost and Found pile at school. Personalized labels provide some insurance that a child's backpack, expensive hoodie, or sports gear returns home again. A small investment in labels can yield big returns for parents.
Emily Press Labels designs colorful stick-on and iron-on labels that are safe for dishwasher, microwave and laundry. While this may appeal to parents, it's the cool designs that have kids wanting to label their stuff. Emily Press chose to design their label collections to appeal to kids of all ages: babies to preschoolers and teens. "After all" said founder and president Maureen McCartney "it's the kids who are wearing them on their personal belongings."
Why use Emily Press Labels for back to school?
Stay organized. Using personalized labels prevents siblings from ending up with another's lunch in the hectic morning flurry out the door. Lunch containers and water bottles can be tossed in the dishwasher with Emily Press Labels' dishwasher safe labels.
Keep things uniform. Whether for school uniforms, gym gear or new shoes, peel-and-stick and iron-on clothing labels uniquely identify your child's belongings and stay on wash after wash.
Speedy identification of school supplies. To avoid confusion, label your child's school supplies before the first day of school so they will know what does, and doesn't, belong to them.
Team-up sports equipment. Rollerblades, hockey and football gear, — this stuff is expensive. Avoid any confusion over ownership and label it. And don't forget to label the electronic gadgets too.
Emily Press Labels has brought personality and style to personalized labels. Children identify with the characters, designs and colors of the labels which are organized into collections and appeal to different tastes. The "Hip & Whimsy" collection is cool and trendy with design motifs that include skulls, pirates, skateboards, camouflage and flip flops, while the "Kids Play" collection includes adorable colorful characters including butterflies, dogs, geckos and monkeys, providing plenty of choices that will make boys and girls want to label their gear this year.
Emily Press label packs for school are a value assortment of labels neatly packaged in their own booklet keeping them all in one place.
Newly launched for the 2010 school year is the First Class Label Pack with 93 labels for $40.95 including: dishwasher safe Slim labels, laundry safe peel-and-stick clothing labels, and waterproof Shoe labels from the "Kids Play" collection. First Class Label Packs are available in seven colors (including new citrus assortment) and a variety of colorful icons from now until September 30, 2010.
Launched earlier this year, the Back to School Labels Pack includes five essential label sizes totaling 130 labels. Choose from the Kids Play or Hip & Whimsy collections. The Back to School Labels Pack is $49.95 until September 30, 2010.
About Emily Press Labels
Vancouver, BC based Emily Press Labels was launched in early 2010 by Maureen McCartney after her futile search to find stylish, durable and age appropriate labels for her nieces and nephews. Her previous experience working for Robeez Footwear gave her the foothold to launch her own creative business with kids and big kids in mind. The company brings trendy color palettes, playful characters and fashionable designs to personalized labels combining them with functionality and durability. The labels are waterproof as well as dishwasher and laundry safe ready to label lunch containers, school uniforms and school supplies so they are easily identifiable. The company name Emily is in honor of her grandmother whom she shares her middle name with. Emily Press Labels has already received great positive response from parents and kids, received recognition by top parenting sites and recently awarded the Ellie & Melissa, The Baby Planners' Seal of Approval. The company assists schools and daycares in their fundraising efforts through label sales. Personalized labels can be purchased directly online at http://www.EmilyPress.com or by phone at 1-866-742-0777.
# # #