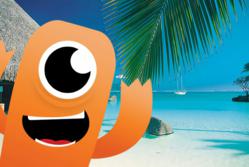 Finally, the public is able to meet Max, the Eminent SEO mascot
Gilbert, AZ (PRWEB) August 24, 2012
Much of the world's business is now conducted on the Internet, and companies must be able to depend upon their websites to connect positively with client and customer bases. Businesses in the modern world are required to maintain professional and intuitive websites if they want to stay competitive, and many companies devote massive amounts of resources to the design and maintenance of their web pages. However, even the most advanced Internet sites are only effective if web users are able to find them. This is why Search Engine Optimization, or SEO, services are so important.
Eminent SEO is a web marketing company that exists to help businesses achieve their full potential from their websites and Internet marketing campaigns. Eminent focuses on optimizing websites so that they are featured prominently in popular web search results. The company also works with its clients to strategize its marketing through the use of social media and other tools. Moreover, Eminent assists its clients on an extended basis to provide comprehensive reports and data designed to help businesses reach their SEO and web marketing goals.
The subject of SEO is not often thought to be glamorous, regardless of the importance of social media and branding needs. This is why Eminent SEO has used a friendly mascot to be the face of the company on Eminentseo.com and elsewhere. This monster mascot has made the subject of SEO less intimidating for clients by appearing in a number of videos and social campaigns, and it has helped to distinguish Eminent SEO from other companies. The monster mascot had no name for several years, and contests were held to choose the proper moniker. Finally, the public is able to meet Max, the Eminent SEO mascot. Max is a simple, yet attractive name, and it is ideal for a mascot that is intended to show how Eminent can help maximize its clients' presences on the web.
About Eminent SEO
Eminent SEO, which is based in Gilbert, Arizona, was founded in October of 2009. Eminent specializes in online new media marketing, and it offers a number of products and services designed to help each of its clients reach customers more effectively by improving websites and overall online presence. Eminent SEO is staffed by creative marketing experts, and it focuses on helping clients with unique strategies. One of the company's most unique aspects is its monster mascot -- recently given the name of Max -- who acts as the face and personality of Eminent SEO.
Contact Information
Contact information and additional details regarding Eminent SEO can be found on the company's website at http://www.eminentseo.com/. More information regarding the company's mascot, Max, can be found at http://www.eminentseo.com/about/max-monster/.