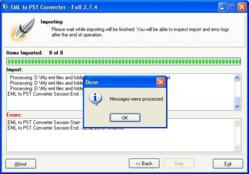 Marcham, ON (PRWEB) March 07, 2012
Converting files from a different email client to PST or OST might seem like a daunting, time-consuming, and expensive task, but with this commercial email client that is gaining popularity with businesses around the globe, it is as easy as a few clicks of the mouse. Email clients like Windows Live and Windows Outlook Express use an email file format known as EML files. The full version of Microsoft Outlook uses a file format called PST or OST (the file format will depend on the version you use).
Windows XP, Windows 7, and Windows Vista all use Windows Live Mail, and it's free. Because it is free, there are certain limitations to using that email client and when you're serious about storing your data, it might be necessary to migrate over to the full version of Microsoft Outlook. Because nothing is ever easy, this migration has posed a lot of problems in the past, getting the email files over from the huge database that is Windows Live, and into an Outlook email client.
That is where EML-to-PST Converter comes in.
No matter what the previous email client, EML-to-PST Converter guides you to the location of the stored .EML files and sets up an easy wizard to follow to get those files moved over. The process is automated, so you don't have to have a lot of experience with this type of transition nor do you need to have special skills on the computer. You just download the software, select the files you want to transition, and the program does all the work.
Not only does EML-to-PST Converter convert the files, it also preserves the organization of files and folders you already established in your former email client, and the tool lets you reorganize during the conversation process. What could be easier?
Software Site: http://www.eml-to-pst-converter.com/
Download URL: http://www.eml-to-pst-converter.com/downloads/emltopstsetup.exe