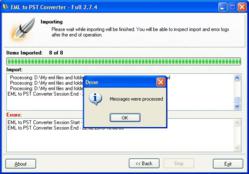 The price is temporary reduced!
Markham, ON (PRWEB) April 10, 2012
EML files are commonly associated with Windows Outlook Express, Windows Live and other email clients, however the full-blown Windows Outlook program uses a different file format - .PST or .OST, depending on which version of Microsoft Outlook you are running. There is a need to be able to convert .EML format files into .PST files for use in Windows Outlook – the world's premier, commercial email client which is widely used by businesses and individuals around the world.
Windows Live Mail is commonly associated with Windows XP, Vista and the recent Windows 7 release – it is a free email client, however for many users there are limitations involved which necessitate a migration to Microsoft Outlook no matter what the email client being used. Once the user base needs to perform the migration, there is a major issue with how to harness the massive knowledge database which is encapsulated within the old .EML powered email client.
This is where EML-to-PST Converter ( official site ) makes its mark!
Taking Windows Live Mail as an example, using EML to PST Converter, you are guided to where the .EML email archive is stored in a series of simple-to-follow instructions. The bulk of the importation process is automated which means you do not need any previous email migration or file conversion experience nor any specialist computer skills. Simply download and install EML-to-PST Converter, select the .EML files to import and let EML to PST Converter do all the hard work.
EML to PST Converter will preserve file and folder organization, including file attachments, headers, calendars and folder structure with the ability to drag and drop objects to reorganize them as you see fit.
Software Site: http://www.eml-to-pst-converter.com/