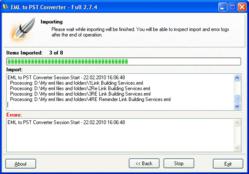 Sacramento, CA (PRWEB) December 07, 2011
On average, an email mailbox can, in just one year, receive thousands of emails. If the email user subscribes to newsletters, RSS feeds, and more, that number increases exponentially. Most people keep a great many of their non-spam emails, either for reference or for legal purposes. When a user decides to make the switch over to Microsoft Outlook, it can be difficult to make sure all those emails transfer to the new email client. Outlooks uses their proprietary PST format in storing all email objects, while other email clients use EML format to store objects. In order for those EML messages to convert to PST format, all messages and mail objects must be processed first so that the PST files are valid.
That is why EML to PST Converter exists – to make the transition as smooth and painless as possible. It can take any email client that uses an EML and MSG format and process and convert the file to PST so that nothing is lost. It is simple to use, doesn't take up a lot of room on your hard drive, and can handle even large-scale transitions for even the least experienced email user. In the past, it would have been necessary to hire a third-party service to perform the migration, which costs a lot of money and takes valuable time away from the company, or if it's a single user, the user. The EML to PST Converter ( download ) employs a simple wizard that takes you through processing and conversion with a few clicks of the mouse. Not only can the converter handle messages directly from your original email client, but it can convert messages that were recovered via recovery tools. The tool can't damage files, because it utilizes an algorithm that cannot modify source files. Not only does the converter convert the messages, but it can convert message attachments as well. The user can define the Outlook folder structure by pre-defining the folder setup and specifying that they want to keep folder structure upon conversion.
Many other options are available as well. EML to PST Converter can preprocess EML files that were created in Mac OS and Unix, import logging, allows the user to choose the Outlook file they want their files sent to, and it preserves the original dates and times of the email, which, after all, is an important piece of information when saving emails in the first place. You don't have to import all your email files – the tool allows you to pick and choose certain files of a specified size, those with or without attachments, etc.
Bonus features include HTML conversion, a batch processor, support of 4 GB or larger Unicode PST files, and more. The EML to PST Converter is efficient, affordable, and fast.
Software Site: http://www.emltopst.com
Download Page: http://www.emltopst.com/download/
Purchase Page: http://www.emltopst.com/purchase/
# # #