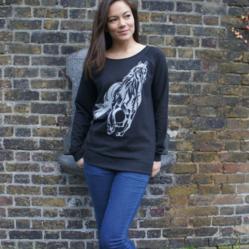 It was not until many traders voiced their disappointment, which subsequently aired upon the BBC News that efforts were made to open up the trading areas to tourists and shoppers again
Greenwich, London (PRWEB UK) 31 December 2012
In the lead up to the 2012 Olympics, London based fashion designer, Emma Nissim, created two original horse based designs, to serve the Equestrian fans that would be visiting the Greenwich Area for those events.
Traders in the Greenwich area did have to deal with a lack of foresight and planning from the organisers of the events in the first days, as tourists and visitors were ushered directly away from the shopping centre by volunteers at barricades, post-event, to take them directly back to various forms of transport, directly out of Greenwich. It was not until many traders voiced their disappointment, which subsequently appeared upon the BBC News on 30th July that efforts were made to open up the trading areas to tourists and shoppers again. The disapproval of many traders also appearing in the Guardian 28th July "Traders are incandescent, irritated by the drop in tourism over the past two months – they say their takings have halved – and by the petty restrictions imposed by the organisers. As the dressage phase of the eventing competition was getting under way in the arena, outside in the high street officials were moving chairs and tables from the pavement next to a cafe, arguing that they represented a health and safety risk."
The turnaround by officials on restrictions then resulted in an economic boom for the rest of the games period. Both of Emma's designs proved to be very popular, and as a result she has decided to keep them as a continual part of her range.
The first artistic design, 'Adele', is a striking figure of a wild horse in motion that has the hallmarks of remaining an iconic image within the Emma Nissim portfolio. It is available in a large foiled silk-screened print on bamboo and organic cotton raglan t-shirts, 100% certified organic cotton ladies cut jumpers and cotton long sleeve tunics. All garments are certified Fairwear.
Her second more playful design 'Equestrian Alfie', features her beloved Golden Labrador and store mascot, Alfie, clothed in dressage regalia upon a pony. It's retention in the range is wholly due to its popularity with her younger customers. It is available in bamboo raglan tees and a limited range of baby bibs in store.
The Emma Nissim Shop is located at:
Shop 10a, Greenwich Market,
London, SE10 9HZ.
0208 8533139
W: http://www.emmanissim.com
Any press enquiries can be directed to:
Rachael Nissim - Director PR
info(at)emmanissim(dot)com
07796865420