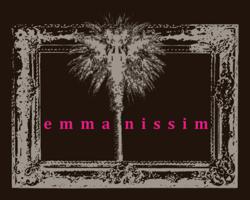 We have found that many overseas shoppers aren't afraid to spend money on good quality products, regardless of where they are located
Greenwich, London (PRWEB UK) 31 December 2012
After holding 'straw poll' discussions with fellow trading friends in the Greenwich Market area, both shopkeepers and stall holders, it has been widely seen to have a much lower Xmas footfall traffic to the region, which has again, put some long established bricks and mortar shops in jeopardy of having to close their doors. Despite this commercial setback for the area, Emma Nissim has seen an increase to her web based sales over her various e-commerce outlets, such as her own site and notonthehighstreet.com, when compared with this same commercial period for Xmas 2011. This now includes a large increase in international interest in her hand printed garments, following the redesign of her own website to open up to direct overseas orders.
"We have found that many overseas shoppers aren't afraid to spend money on good quality products, regardless of where they are located". "This confirms many of the online trends that we have been seeing over the last few years, which seem to coincide with the occurrence of the Global Financial crisis, and the slow rebuilding of commercial confidence since that time."
"We realise that we need to bolster our own virtual presence, opening up to as many channels as possible, as many major retailers have also done. A steady decline in pedestrian shoppers has forced us to rethink our business strategies"
"As a small family business, it is absolutely vital, more than ever, that we plan our future very carefully, in times like this where shoppers appear to be nervous to leave the home, but are much more comfortable to turn the laptop or tablet on, and browse virtual showrooms instead"
The Emma Nissim Store is located:
Shop 10a, Greenwich Market,
London, SE10 9HZ.
0208 8533139
W: http://www.emmanissim.com
Press enquiries can be made to:
Rachael Nissim - Director PR
info(at)emmanissim(dot)com
07796865420