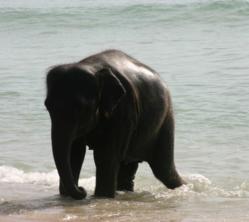 Being irresponsible is not an option. I started my own business, not just for a creative outlet, but because I care about these issues
Greenwich, London (PRWEB UK) 31 January 2013
Emma Nissim Fashion staff member, Melisa Dora, is taking up a volunteering challenge in South Africa during April/May, and Emma is aiding her venture by subsidising this worthwhile cause. "We are excited to see Mel travelling to take part in something that is very close to our own hearts and philosophy". She will be in residence for a month, and tending to elephants in a conservation and rehabilitation programme. Emmas hand printed 'Lily the Elephant' range is dedicated to these majestic creatures.
Emma Nissim loves animals and respects the environment, and those passions help to formulate her choices of how everything is done in her fashion business, from where the fabric is sourced, how it impacts the environment, to the hand printed production methods used. If there is a cleaner option, it will be taken even if it costs her more. Emma says: "Being irresponsible is not an option. I started my own business, not just for a creative outlet, but because I care about these issues."
Emma pays for premium fabric such as 70% sustainably grown bamboo and 30% organic cotton blends, instead of the cheaper and more accessible non-organic cotton, where you don't have transparency of the process to know what chemicals have been used and how it has affected the environment because of it. "We actively work to cut all impacts our business makes"
Emma already gives a percentage of her sales of her Tortoise design print to WWF, and her Elephant design print to Born Free. She plans to campaign these designs in the near future to raise even more awareness.
For further details please contact:
Rachael Nissim - Director PR
info(at)emmanissim(dot)com
07796865420
The Emma Nissim Store is located:
Shop 10a, Greenwich Market,
London, SE10 9HZ.
0208 8533139
W: http://www.emmanissim.com