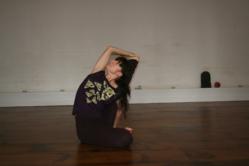 I am so happy to have discovered Emma Nissim! As I am a full time yoga teacher who travels a lot and teaches in both hot and cold climates, they suit my needs perfectly… - Jana Appleyard
Greenwich, London (PRWEB UK) 28 April 2013
Emma Nissim, London fashion designer, advocates a dedication to healthy lifestyle such as yoga and pilates, and it has helped to shape her desire for the perfect eco-friendly fabric that enhances the wearer by being suitable for many activities. Her 'Blinking Bikes' mens tshirt has proved to be extremely popular as both gifts from ladies for Valentine's Day and Father's Day gifts, and by cycling men who not only appreciate the hand printed silk screen designs, but the breathability and lightness of the 70% sustainably grown bamboo cellulose and 30% organic cotton fabric.
Having seen this trend growing with her conscientious customers, she has enlisted the help of yoga and pilates instructors and fitness professionals to describe in their own words how they love the fabric when being worn during classes and training session. Her recent month long collaboration with Jana Appleyard in organising yoga sessions in her Greenwich Market shop, proved to be a huge success, especially for a small shop floor and the particularly cold weather at the time.
"As we continue to grow our network of professionals, our variety of Ambassadors will also grow so that we can help our message be distributed to a wider audience."
For further details about Emma Nissim's product range, please contact:
Rachael Nissim - Director PR
info(at)emmanissim(dot)com
07796865420
The Emma Nissim Store is located:
Shop 10a, Greenwich Market,
London, SE10 9HZ.
0208 8533139
eCommerce Web: http://www.emmanissim.com
Facebook: http://www.facebook.com/EmmaNissimDesigns